Integrated Planning and Reporting
Local Councils in NSW are required to undertake their planning and reporting activities in accordance with the provisions of the Local Government Act 1993 and the Local Government (General) Regulations 2005.
A new planning and reporting framework for NSW Local Government has been introduced. These reforms replace the former Management Plan and Social Plan with an integrated framework. It also includes a new requirement to prepare a long-term Community Strategic Plan and Resourcing Strategy.
The flow chart from the Division of Local Government's Integrated Planning and Reporting Guidelines illustrates the relationship between each element of the new framework: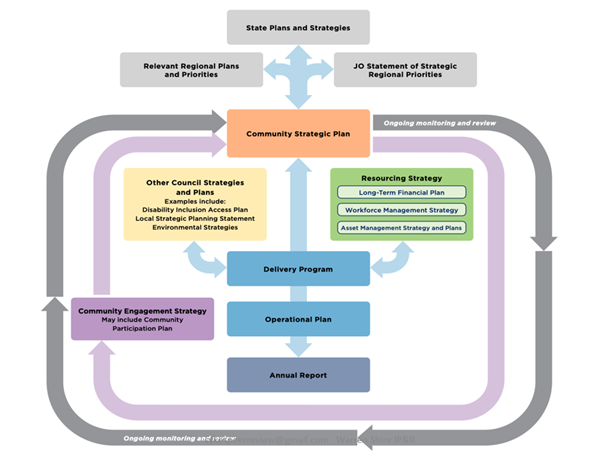 This section contains Warren Shire Council's:
IP&R-01Community Engagement Strategy 2011 IP&R-21"Warren Shire 2027" Community Strategic Plan IP&R-222017/18 to 2020/21 Delivery Program IP&R-232017/18 Operational Plan IP&R-242017/18 Financial Information, Estimates, Fees & Charges IP&R-252017/18 to 2026/27 Long Term Financial Plan IP&R-252018/19 to 2027/28 Long Term Financial Plan IP&R-262018/19 Operational Plan IP&R-272018/19 Financial Information, Estimates, Fees & Charges IP&R-272019/20 Operational Plan & Estimates IP&R-28Nevertire Village Enhancement Plan IP&R-29Warren Village Enhancement Plan IP&R-30Collie Village Enhancement Plan IP&R-312020/21 Operational Plan & Estimates IP&R-312020/21 to 2029/30 Long Term Financial Plan IP&R-35Asset Management Plan - Roads IP&R-36Asset Management Plan - Recreation IP&R-37Asset Management Plan - Buildings IP&R-38Asset Management Plan - Stormwater IP&R-39Asset Management Plan - Water Supply Network IP&R-40Asset Management Plan - Sewerage Service Network IP&R-41Asset Management Plan - Other Assets IP&R-432021/22 Operational Plan & Estimates IP&R-452021/22 to 2030/31 Long Term Financial Plan IP&R-46Warren Shire Community Strategic Plan Warren Shire 2035 IP&R-47Delivery Program 2022-23 to 2025-26 IP&R-48Operational Plan & Estimates 2022-23 IP&R-492022/23 to 2031/32 Long Term Financial Plan IP & RDraft Pedestrian Access and Mobility Plan Report, November 2014 IP&RHousing Provision in the Orana and Central Darling - January 2023 IP&RHousing Provision in the Warren Shire - December 2021 IP&ROperational Plan & Estimates 2023-24 IP&RWarren Health, Sporting and Cultural Precinct Connections Study - 2016
Contact Details

Warren Shire Council
Phone: 02 6847 6600
Email: council@warren.nsw.gov.au