Go Beyond
13 February 2023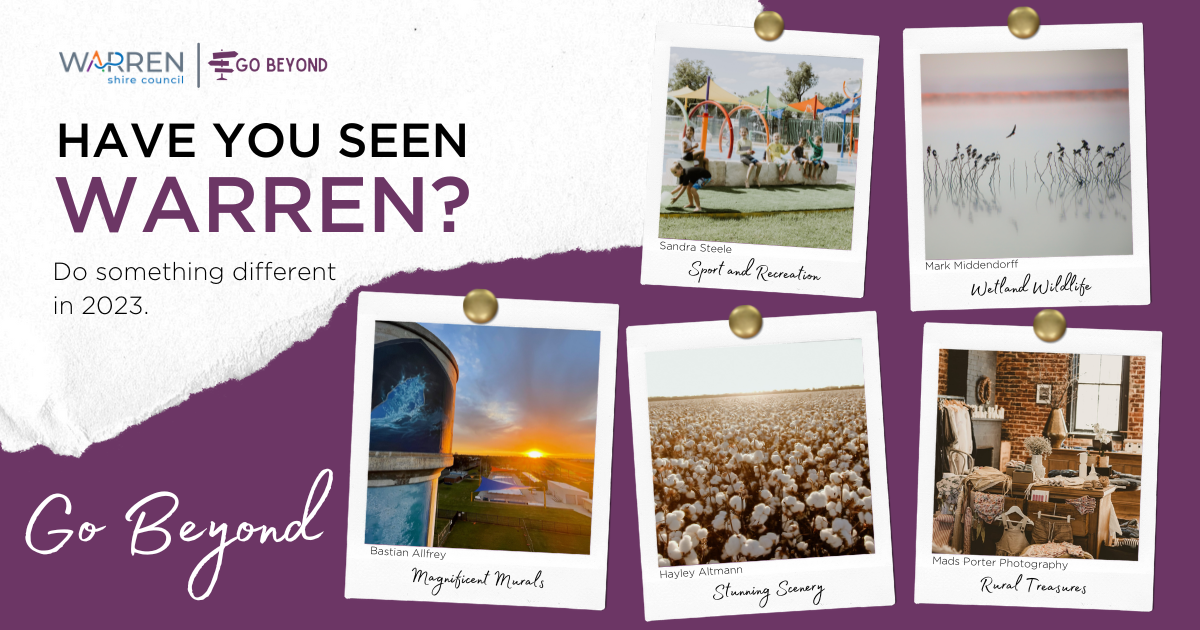 HAVE YOU SEEN WARREN?
Sick of the traditional travel experiences and over-hyped tourist traps? It's time to do something a little different in 2023, and go beyond.
Beyond the usual holiday destinations and well-known attractions.
Beyond the crowded caravan parks and tired tourist tracks.
Beyond the places on the map you know by heart and don't ever make it past.
Beyond what you have ever known or imagined.
Destination With a Difference
When you open your imagination beyond these regular possibilities, you will discover an extraordinarily warm and welcoming rural region, with a friendly sense of fun.
Where you'll feel like family and discover amazing attractions and stunning rural scenery that will have you mesmerised and leave you wanting more.
That's right, we're talking about Warren.
Why Warren?
Located in the Orana region of Central Western NSW, this year's most impressive undiscovered destination is only one hour's drive north-west of Dubbo.
It's the perfect place for Grey Nomads, Caravan Crusaders or 4WD Adventurers seeking Aussie towns that offer an authentic experience and the ideal family holiday destination for socially and environmentally conscious families searching for traditional holiday alternatives.
Authentic Agritourism
Famously known as 'the last town with a bloke's name for 200km,' Warren Shire allows you to experience diverse agricultural industries from wool, sheep and cattle to cotton, wheat and canola, all within an authentic working environment.
It provides a chance to explore the start of the production cycle and allows you the opportunity to understand the true meaning of 'from paddock to plate.'
The Wonders of Warren
Warren Shire is home to an incredible number of both man-made and natural wonders that are perfect for the day-tripper or anyone who wants to stick around a little longer.
Tick off a must-see destination on the NSW Mural Trail and admire the breathtaking public art in Warren Shire.
Located across Warren, Nevertire and Collie, this series of murals celebrate all aspects of rural life. The various designs provide insight into the Shire's rich history and agricultural roots, as well as a reflection of the current local community.
One of the largest semi-permanent wetlands in south-eastern Australia, the Macquarie Marshes is the ultimate destination for any avid bird watcher, supporting over 200 bird species and showcasing some of the region's most spectacular natural scenery.
The new Burrima Walkway provides great accessibility to these natural wonders.
Nevertire Hotel and Collie Hotel
Enjoy small town hospitality at its best, with a side of Aussie bush humour thrown in! From Outback Laughs comedy nights at the Nevertire to yabby races and Kingswood Classics at the Collie, not to mention the amazing pub feeds, you can't go past these two fun country pubs for entertainment and enjoyment.
You'll always feel welcome at Warren Services Club. This kid-friendly venue offers delicious food in a relaxed, welcoming atmosphere. With its modern décor and friendly staff, it's the perfect place to meet up with friends… or make some new ones!
Sporting Facilities
Home to Carter Oval Youth Sports Precinct, Warren Shire has some impressive sporting and recreational facilities.
Take a dip in the Warren War Memorial Swimming Pool or channel your inner child at the recently opened Warren Splash Park. Try your luck at the Warren Skate Park - one of the best in NSW - or enjoy a day at the races at Warren Showground Racecourse: the Randwick of the West.

This converted historic church now operates as an education and training facility as well as a community space that features interesting cultural displays and the Macquarie Marshes and Warren tourist information. Located next to the Tiger Bay wetlands, it's the perfect spot to relax before exploring the numerous species of birds and aquatic flora who call the wetlands home.
From Window on the Wetlands, you can also enjoy the Beemunnel Heritage Trail to experience the natural vegetation that was used by the Wayilwan people for cultural and ceremonial purposes.
Find out more on the Window on the Wetlands Facebook page.
Looking For a Tee-riffic Golf Club?
We've got the best one, by par.
Situated on Oxley Highway, Warren Golf Club features a mixture of grass and sand greens and boasts an 18-hole golf course.
Music to Your Ears
Enjoy events such as Warren Chamber Music Festival, Symphonia Jubilate Outback and 12 fabulous musical experiences for kids during Education Week in May.
Stay and Play
Some local accommodation includes the Macquarie Valley Motor Inn, Warren Motor Inn, Macquarie Caravan Park or find a rural hideaway with Stay in the Bush.
Boutiques
Find some local treasures at the recently opened Rural Trader, Ellerslie Lane and Lou Webb Collections or the established Brad's Wear and Grindrod's Newsagency, plus much more.
Read our Q&A with Ellerslie Lane's Bonnie Storer.
Buy from the Bush founder, Grace Brennan, is a Warren Shire local. Relocating to the Shire for love many years ago, she now calls Warren home from which she continues her crusade to showcase the incredible talents of people in bush communities.
Our Neighbours
Bogan Shire, Brewarrina Shire, Coonamble Shire, Dubbo, Gilgandra Shire, Lachlan Shire, Narromine Shire and Walgett Shire.
Have you seen Warren?
Locals share some of their wonders of Warren Shire
Go Beyond
So, it's about time you saw Warren. Do something different, and go beyond. You won't regret it.