Women of Warren Shire - Grace Brennan
18 January 2023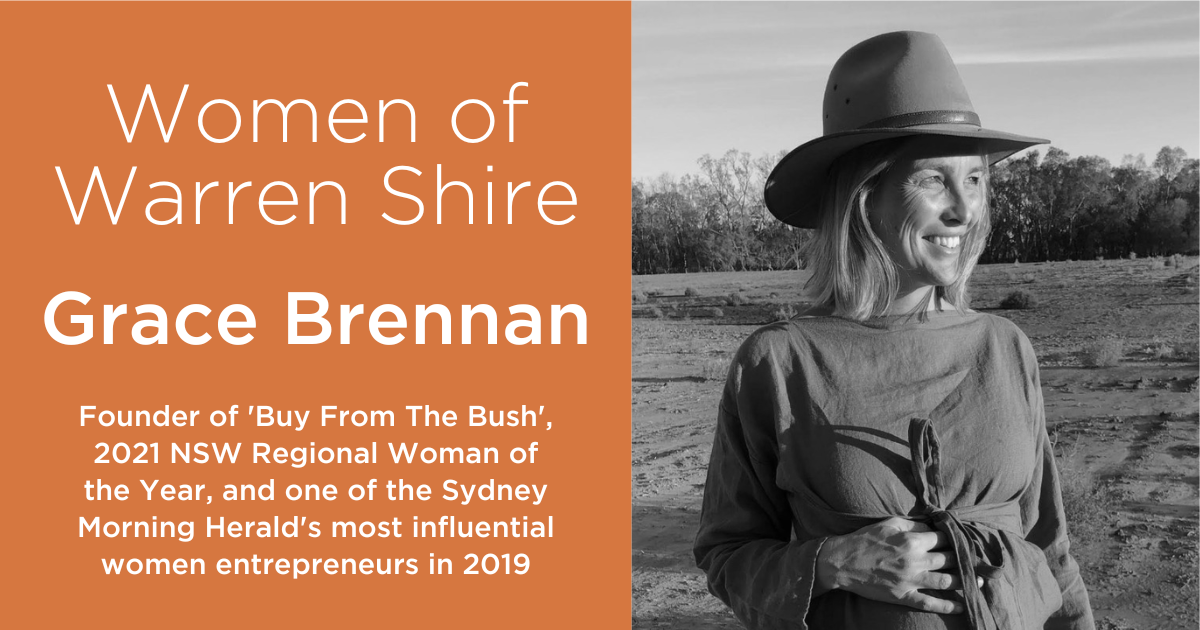 As the founder of online marketplace 'Buy From The Bush', Grace Brennan has become a household name not only in Warren Shire, but Australia-wide.
The 'Buy From The Bush' campaign helped to revitalise local economies in the midst of the worst drought on record in 2019, and has continued to revolutionise the way small businesses operate in rural communities.
As a dedicated supporter and tireless advocate for bush businesses across the country, we celebrate Grace's contributions as this month's Woman of Warren Shire.

Quickfire questions…
A usual morning looks like…
Mania. Four kids equal lost school shoes, incomplete homework, sleep-deprived parents and late arrival at school most days.
I'm most proud of…
Working successfully alongside dear friends and building a killer team of talented women working remotely.
On the weekend you can find me…
Usually hunched over my laptop (sadly).
What is your favourite memory of living in Warren Shire?
It was during the 2010 floods. We were cut off from town and had been isolated for a while. Karene Cosgrove loaded a barbecue onto the back of the ute and invited everyone for a barbie on the only dry ground – the tar along Bullagreen Lane.
Favourite place in Warren Shire?
Marthaguy Hall.
Or in summer, the pool. The best pool in Australia. Incredible hot chips… and scallops!
Three words to describe Warren Shire?
Pride. Community. History.
Some more about you…
Tell us something people don't know about you.
I take my food very seriously, though not in a sophisticated way… Do not put mayo on my chicken sandwich!
You've made such a huge local impact, but you weren't always a resident of Warren Shire. Tell us a bit about how falling in love with a boy from the bush prompted your journey here from the big smoke.
The Brennans and Azars have lived here for generations and Jack has always known he would end up a farmer, so it was clear that a life with him meant a move to 'God's country'.
How was the transition from city to country life?
I am still transitioning.
I still buy single litre milk. Still wear shoes in the house. Still don't know where to go when someone tells me to head north, and sometimes still swing the gate the wrong way.
But I can de-shell a yabby before you can say 'XXXX Gold', so that's something…
What do you enjoy most about raising your family in Warren Shire?
The strength and resilience that they encounter. Inspiring people are everywhere out here!
I hope as they grow, they carry with them the curiosity that life in a small town can foster, and approach problem-solving like a bushy.
You're best known for founding Buy From The Bush (BFTB). Where did the inspiration come from and what makes you most proud of its success?
I once shared an article on Facebook about the impact of the drought on former Warren business, 'The Beauty Room', and told friends they could shop from Laura via Instagram if they wanted to support her.
A friend then told me that they would be "buying from the bush" for their Kris Kringle that year. That sparked an idea, a logo, and an Instagram account, and here we are today.
I am most proud of the lasting impact it has had on a number of small businesses. To see their significant growth over the last few years and the subsequent investment in their local communities is incredible.
Nevertire's The Rural Trader was recently crowned 'People's Choice Award' in BFTB's Big Break Competition. What was the idea behind the competition and what were some of your personal highlights?
'BFTB Big Break' was ultimately about enabling big ideas in small businesses in the bush.
I think it's really scary for people to put their face in front of a camera and pitch an idea, yet it's so important that rural entrepreneurs take the leap!
The competition was a way of forcing people out of their comfort zone, fostering greater visibility for rural founders, and driving some vital seed funding toward their worthwhile projects.
Kat Porter [Founder of The Rural Trader] had an incredibly memorable pitch, which inspired a huge response from people, both in the city and the bush, who believed in her vision.
You were named one of the nine most influential women entrepreneurs in 2019 by the Sydney Morning Herald and gave the 2020 Australia Day address.
You then went on to win the 2021 NSW Regional Woman of the Year award, and you were also nominated as the 2021 Australian of the Year.
Obviously, you're a huge inspiration to many, but what does this recognition mean to you?
It's lovely!
The opportunity to tell a bigger story of modern rural Australia, of the challenges we face as well as the potential we hold, and actually have people listen is an enormous privilege and responsibility.
What is one piece of advice you'd give to aspiring female entrepreneurs in regional and rural areas?
Take your whole self to work.
To nominate a Warren Shire woman to be featured in this series, email media@warren.nsw.gov.au