A Year in Review and a Year of Opportunity
25 January 2023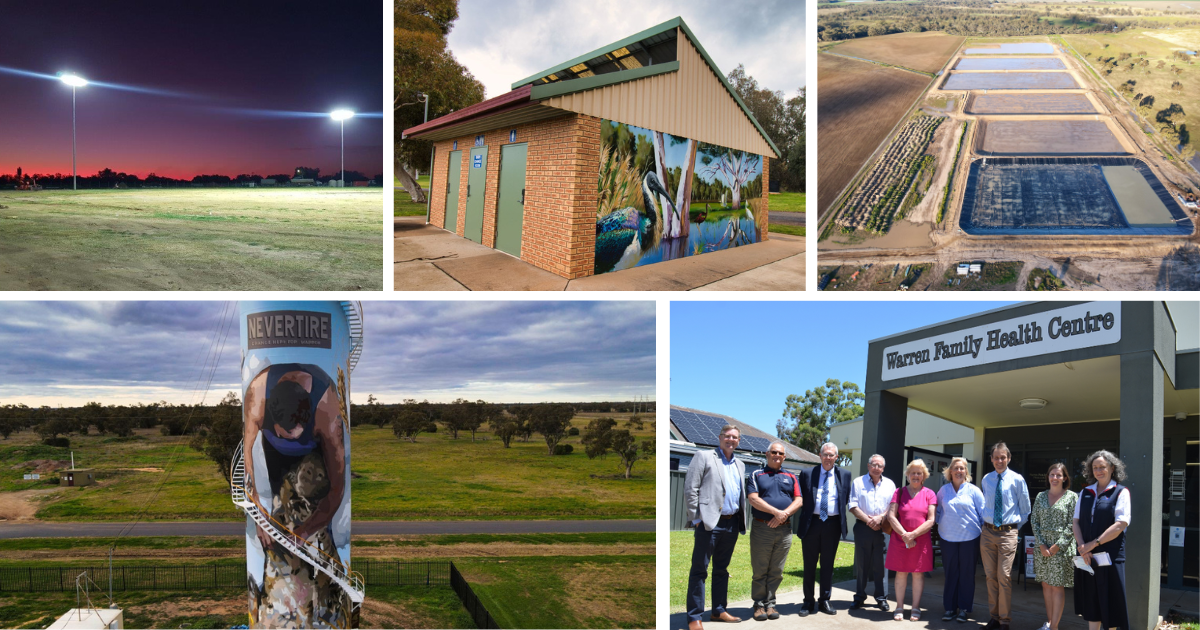 2022: A Year in Review.
2022 was certainly a remarkable year.
From the ongoing impacts of COVID-19 to extreme weather events, the people of Warren Shire faced the year with such a strong community spirit. 2022 has shown our resilience and commitment to our Shire.
2022 saw many notable achievements including:
Completion of a very successful murals program including refurbishment of the Nevertire Water Reservoir.
Near completion and commissioning of the new Warren Sewerage Treatment Plant and Pumping Station and refurbishment of the Wilson Street and Nevertire Sewer Pump Stations.
Recommencement of the Village Enhancement Program including kerb and gutter and footpath replacement in Nevertire and Warren, completion of the levee footpath ramp in Readford and Lawson Streets, Nevertire Community Park improvements, Noel Waters Oval accessible toilet and shower construction, and Nevertire Hall fencing and surrounds improvements.
Lighting installation at the Carter Oval Youth Sports Precinct.
Development of our new Warren Shire 2035 Community Strategic Plan and other associated Integrated Planning and Reporting Documents.
Successful management of continual flooding of the Macquarie River and creeks throughout the area, with 24/7 emergency levee operations, roads flood and storm management and manning of the State Highway 11 Oxley Highway closure while undertaking emergency restoration repairs, as well as taking back the Routine Maintenance Council Contract (RMCC) for the SH11 Oxley Highway within the Warren Shire.
Recommencement of a plant replacement program that saw a new motor grader, rubber tyred roller, two tender trucks, two tractors, two side tipping trailers and dolly with a new truck expected in early 2023 and a second-hand excavator and attachments for the Ewenmar Waste Depot.
We also celebrated the advancement of many important community infrastructure projects, successfully advocating for vital road funding and delivered a number of major upgrades, despite challenging weather conditions throughout the year.
It was pleasing to end the year with the Royal Flying Doctor Service assuming management of the General Practice Services at the Warren Family Health Centre and 2022 was topped off by probably the best Warren Street Christmas Party ever held.
Warren Shire Council thanks everyone individual who contributed to collective achievements of 2022.
2023: A Year of Opportunity
2023 will be an interesting year with many opportunities and challenges ahead.
The commencement of the new Economic Development and Visitation Manager in January will support the operations of the Warren Shire Visitor Information Centre and volunteer program.
Council will also be undertaking an extensive roads bitumen reseal and gravel re-sheeting program and completing several major infrastructure upgrades including:
Development of the Carter Oval Youth Sports Precinct
Warren Showground Racecourse Complex redevelopment
Warren Town Library improvements
Village Enhancement program
Warren Aerodrome terminal building
Warren CBD and Lions Park amenities
Warren Cemetery expansion project
Monkeygar Creek Bird Viewing Platform
Upgrading of the Gunningbar Estate Sewer and Oxley Park River water pump stations
Ewenmar Waste Depot improvement program
Groundwater Augmentation Project including upgrading of the chlorination system to industry best practice
Solar power program; and
Reconstruction of a large section of SR58 Nevertire – Bogan Road and undertake further construction of SR65 Old Warren Road, as well as reconstructing another section of RR347 Collie-Trangie Road.
It is hoped that 2023 will also see major works carried out as part of the road flood and storm damage restoration programs, including culvert replacement and reconstruction of RR7515 Warren Road and the replacement of the Newe Park Bridge and Marthaguy Bridge, also on RR7515 Warren Road, and the SR40 Merrigal Road Dragon Cowal Concrete Causeway Construction Project.
Commencement of the Warren Town Levee upgrading project will involve further rock protection works and piling on the Macquarie River downstream of Lions Park, in addition to upgrading our levee stormwater drainage pits and pumping infrastructure.
Council will also be seeking to finalise the design of the Warren Central Business District Street Upgrade, in preparation for any future grant funding and restore Macquarie Park back to a pristine condition following the floods.
Other activities on the agenda for 2023 include determining the future of operations at Mount Foster Quarry, renewing the Warren Shire Local Environmental Plan, Warren Shire Emergency Management Plan, Warren Shire Economic Development Strategy and Action Plan, arranging a Tourism Strategy and Destination Management Plan, facilitating the Destination Macquarie Marshes Taskforce and finalising the Crown Lands Plans of Management.
We hope to continue to secure further grant funding to improve the infrastructure and services to the community of Warren Shire both now and in the future.
Gary Woodman
General Manager
WARREN SHIRE COUNCIL