Council Meeting Highlights - July 2022
29 July 2022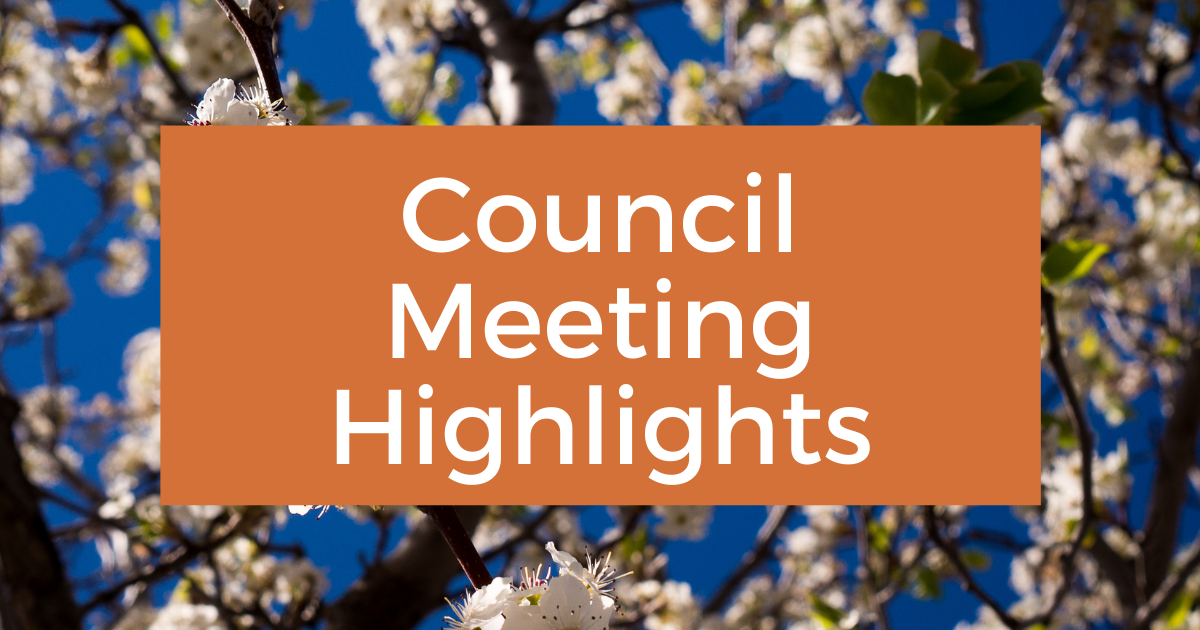 MEDIA PRECIS

Warren Shire Council meets on the fourth Thursday of every month, with the exception of November, which is replaced with a meeting on the first Thursday of December.

All Council meetings are filmed and stored online. To view these proceedings please visit warren.nsw.gov.au/council/meeting-videos

Please find following a selection of highlights from this month's meeting:
REPORTS OF THE GENERAL MANAGER
ITEM 1 OUTSTANDING REPORTS CHECKLIST
Improved Public Amenities
Warren Shire Council has allocated $140,000 for the improvement/replacement of the Warren CBD Toilet Facility, following an unsuccessful grant application. Council has further adopted the Warren Public Arts Committee recommendation to have historical photographs of Warren themed collage on the Dubbo Street wall of the facility. The CBD Toilet Request for Quotation (RFQ) closed on 14 July 2022.

Subject to the Warren Lions Club committing at least $16,000 toward the installation of Toilet Facility in Lions Park, Warren Shire Council will allocate $52,000 to this project. Council has again adopted the Warren Public Arts Committee recommendation to have a Macquarie River theme collage on the outside walls of the facility, with the Lions Park Toilet Request for Quotation (RQG) also closing on 14 July 2022.
ITEM 3 WORKS PROGRESS REPORTS – INFRASTRUCTURE PROJECTS
Upgrade works for Warren Airport are in the final stages, with a redesign of the concrete slab for the new terminal building to meet budget requirements. Warren Shire Council will shortly advertise for submissions for the construction and fit-out of this facility, with technical specifications being prepared by Barnson Engineering.
Village Enhancements for Warren, Nevertire and Collie
Improvements under this program include:
Kerb, gutter and footpath works in Nevertire are 98% complete.
Construction of a new amenities facility for Noel Waters Oval is complete.
New seating and bin enclosures have been delivered.
New electric BBQ for Nevertire Community Park has been delivered.
Survey work has been completed for a new access ramp at Lawson/Readford Streets, with construction of the ramp in progress.
Concrete pathways and BBQ slab works at Nevertire are complete.
New fencing at Nevertire Park has been completed.
Works in Warren are subject to external funding for the Warren roundabout reconstruction.
Carter Oval and Development of the Surrounds
The $761,562 works funded under the Murray-Darling Basin Economic Development Program – Improvement of Regional Structures Grant are continuing, with irrigation installed on Carter Oval and pathways constructed between sports areas.
Fields: The Carter Oval Cricket Pitch was assessed for further development this month, with more discussion to take place regarding funding sources for the practice cricket nets, as all quotes received were over budget.
Facilities: Construction is continuing on the soccer fields and junior cricket field, with additional pathways and a car parking area to be built following completion of earthworks, weather permitting. Little A's, cricket and soccer storage facilities have all been re-quoted and are now included in the Carter Oval Amenities Building Tender.
Lighting: Works are nearing completion on the 500 LUX LED cricket field lighting and poles, together with additional soccer field lighting, which includes Australian-made poles and 200 LUX LED lighting. All light towers have been installed, as well as the electrical switchboard, which is awaiting commissioning, with the project currently at testing phase. The lighting project is funded under the Australian Government's Drought Communities Extension Program and the Murray-Darling Basin Economic Development Fund, Round 3.
Amenities Building & Storage Rooms: Landmark Products Pty Ltd has been engaged for the design, delivery and construction of a Prefabricated or Modular Sports Amenities Building for Carter Oval Youth Sports Precinct. This includes change rooms (with a focus on female competitors), amenities (including a canteen and viewing area) and storage area at Carter Oval and is funded through the NSW Government's Stronger Communities Fund, Round 4.
Warren Showground/Racecourse Upgrade
Several projects funded under the Regional Sports Infrastructure Fund are now practically complete. These include:
Equestrian Arena: Following completion of the covered Equestrian Arena, Aqua West has installed the dust suppression watering system, with misting to be programmed. Council has also obtained quotes for the supply and installation of kick rails. The sand floor will be re-laid with suitable sand from Narromine, selected by the Adult Riding Club. Council is working with Club representatives to ensure the project is suitable for handover.
Pony Club Cross Country Facilities: Improvement works for the Pony Club Cross Country facilities have been completed and are now ready for a final practical completion inspection.
GBS Falkiner Lounge and Viewing Area: Construction of accessible amenities and an existing amenities upgrade including painting, new carpet and tiling have been completed, air conditioning installed and commissioned, seating in the viewing area is completed, painting of the grandstand flooring has been completed, re-walling is 50% complete, with painting continuing.
Refurbishment of the Showground Ladies Toilets: The final stage of the female toilet replacement/refurbishment commenced in early July 2022.
Additional projects, funded through the NSW Government's Showground Stimulus Funding Program, Phase 2C, are progressing with works underway:
Work to replace amenities in the Cattleman's and Horse Sports Camping Area have been completed;
Quotations have been requested from local and regional businesses for the installation of a new septic tank for the Main Pavilion amenities;
Rescoping for a renovation of the men's amenities in the Main Pavilion is underway due to the building's condition; and
Council will readvertise for quotes to re-fence the Showground perimeter from local suppliers and rural fencing contractors.
Warren Shire Mural Program
Funded under the Murray-Darling Basin Economic Development Program, Round 3, Warren Shire Tourism, Business Development and Macquarie Marshes Signage, the Warren Shire Mural Program is progressing well.
This month brought the Public Art on Private Property mural series close to completion, with all murals in Warren and Nevertire now finished, as well as the mural on the Nevertire Water Tower now complete.
Mural artist Bastian Allfrey has since commenced work on the remaining murals at Collie, which are expected to be completed within the coming week.
Keep an eye on Council's Facebook page for the latest updates and mural images.
The location of an All Access Amenities facility has been finalised with the Warren Pony Club. This project is funded by the Crown Reserves Improvement Fund Program.
New Warren Sewerage Treatment Plan Upgrade
This $6,150,000 project is now at practical completion, with a Practical Certificate to be issued to allow for commissioning. A final inspection and commissioning is expected in early August 2022.
The status of council's current grant applications is as follows:
Awaiting Notification:
$1,800,000 to the Australian Government's Murray-Darling Healthy Rivers Program: Large Grants to upgrade the Bryan Egan Weir (Lower Warren Weir) to include the appropriate fish passage to be developed to 'shovel ready' status.

Unsuccessful:
An application to the NSW Government's Responsible Gambling – Infrastructure Fund for a new accessible toilet facility in the Warren CBD has been unsuccessful; however, a new application to the next round of program funding has been arranged.
ITEM 4 LOCAL GOVERNMENT NSW ANNUAL CONFERENCE
Warren Shire Council has approved the attendance of the Mayor, Deputy Mayor, General Manager and one Councillor to the LGNSW 2022 Annual Conference to be held in the Hunter Valley on Sunday 23rd October-Tuesday 25th October 2022.
Council will defer nominating a Councillor until the Conference Agenda and guest speakers are known and Council has nominated the Mayor as its voting delegate for the Annual Conference.
The LGNSW Annual Conference provides an opportunity to share ideas, seek inspiration, and help determine Local Government policy directions for the coming year, as well as providing a platform to meet with Ministers from various government departments.
REPORT OF THE DIVISIONAL MANAGER OF FINANCE AND ADMINISTRATION

ITEM 4 LIBRARIAN'S REPORT ON THE WARREN SHIRE LIBRARY OPERATIONS
Warren Shire Council received a report on Warren Shire's library operations, which provides a customer-focused service to meet the needs of the Shire community.
With 991 members, the Library hosts a range of events and activities, as well as providing outreach services to local school and daycare services.

Upcoming Events for 2022 include:
August

–

Local History workshop.
September – Visiting Rural Romance Authors.
November – Launch of completed photograph collection.
The Library consistently provides a wealth of print and e-resources for all community members.
Following receipt of a Public Library Infrastructure Grant 'Doorways to an Open-Air Library' earlier this year, plans are underway to dramatically improve the access and entrance to the Library, with a lobby area and creation of an Open-Air Library space.
ITEM 5 ACCOUNTING TREATMENT OF RURAL FIRE SERVICE ('RED FLEET') ASSETS
Warren Shire Council will write to local and relevant State Parliamentary Members, Shadow Ministers and the Auditor General to advise of Council's objection to the NSW Government's determination on the ownership of Rural Fire Service (RFS) "Red Fleet" assets.
This correspondence will advise of the impact of the Government's position on Council finances and inform recipients that Council will not carry out RFS assets stocktakes on behalf of the NSW Government or record RFS "Red Fleet" assets in Warren Shire Council's financial statements.
It will further call on the NSW Government to take immediate action to permanently clear up inequities and inconsistencies around the accounting treatment of RFS "Red Fleet" assets including amending the appropriate legislation to ensure that RFS "Red Fleet" assets are not identified as Council property.
In addition, Council reaffirms its complete support of and commitment to local RFS brigades, noting that Warren Shire Council's action is entirely directed toward the NSW Government.
Council further affirms its support to Local Government NSW (LGNSW) and requests LGNSW continue advocating on Council's behalf to seek clarification from the State Government about the accounting treatment of RFS "Red Fleet" assets.
REPORT OF THE DIVISIONAL MANAGER ENGINEERING SERVICES
ITEM 1 WORKS PROGRESS REPORTS – ROADS
Extreme weather conditions have caused further damage to the Shire's roads, requiring additional repair works. Other recent works include:
Grading: Tabratong Lane, Buddabadah Road, Kianga-Marebone Road, Old Warren Road, Pigeonbah Road, Ringorah Road, Rothsay Road and Drungalear Road.
Signs and Guideposts: Tottenham Road, Nevertire-Bogan Road, Thornton Road, Wambianna Road, Bourbah Road, Warren Road and Marthaguy Road.
Slashing: Bullagreen Road, Pineclump Road, Warren Road, Collie-Trangie Road and Collie Road.
Patching and repair: Marthaguy Road, Carinda Road and Warren Road.
Road maintenance and construction schedule
Upcoming maintenance grading and rehabilitation works scheduled for August/September 2022 include:
Buddabadah Road, Tyrie Road, Dandaloo Road, Marthaguy Road, Deacon Drive, Old Warren Road, Pigeonbah Road, Castlebar Road, Bundemar Road, Merrigal Road, Drungalear Road, Hatton Lane and Stephens Road.
Road maintenance works may be subject to change with any inclement weather.
Capital Works in Progress
Construction for Ellengerah Road Segments 22, 24 and 26 is complete. This $1.7M project is jointly funded with $698,771 from Fixing Local Roads Round 2, $174,693 in Council Contribution, $211,587 Local Roads and Community Infrastructure Program Phase 2, and $634,762 from Fixing Local Roads Round 3.
Construction on Old Warren Road Segments 26 and 28 is complete, further works are subject to a variation claim. A variation claim will allow for the construction of an additional 1-1.5km. This $1.6M project is jointly funded with $1,259,960 from Fixing Local Roads Program Round 3, $296,147 from Local Roads and Community Infrastructure Program Phase 2 and $123,840 Local Roads and Community Infrastructure Program Phase 3.
Warren kerb and gutter replacement across multiple streets is scheduled for completion this month. Lengths have changed due to costs.
Investigation and design work for the CBD Improvement Program has commenced.
Successful Grant Applications
Rehabilitation of Warren Road, Regional Road – Council has received confirmation that its grant application has been successful, providing an extra $2,000,320 from Transport for NSW towards this project. This is the result of Council's extensive lobbying and ongoing consultation with Federal Government, Infrastructure NSW, Transport NSW and Coonamble Shire Council to source additional funds. The Funding Deed has now been signed by both Warren and Coonamble Shire Councils and is currently awaiting signing by Infrastructure NSW.
Collie-Trangie Road, Segment 18 – Council will receive $400,000 under the REPAIR Program 2022/23 for rehabilitation of Collie-Trangie Road, Segment 18, Council's co-contribution of $400,000 will be allocated from the 2022/23 Regional Roads Block Grant; however, the application for the same amount for Segment 14 of the Carinda Road (RR333) has been unsuccessful.
Other grant applications
Council is awaiting approval on its application for $1,255,400 to the Federal Road Safety Program Tranche 4 and 5 for shoulder widening and line marking on RR333 Carinda Road.
ITEM 2 WORKS PROGRESS REPORTS – TOWN SERVICES

Warren Lawn Cemetery Stage 3
The public exhibition period for the Cemetery Expansion concept plans closed on Thursday 28 July 2022. Features of the expansion include increased lawn area and the creation of additional plots within the existing cemetery, including family plots and a series of small memorial walls. With these additions, the modified layout will enable over 1,100 new burial plots.
CCTV – Council Works Depot
A CCTV System will be supplied and installed by Alpha Global in the coming months.
Other grant applications
Council is awaiting responses for the following town services grants:
Council Levee Bank Rehabilitation: Following receipt of $5.325 Million in Commonwealth Funding announced in May, Council staff are attempting to secure a $1.77 Million co-contribution from the NSW Government. Resilience NSW has requested further information which has been forwarded and Council is now awaiting a response.
Tiger Bay Wetlands Effluent Reuse Scheme for Drought Protection: Funded under the Murray-Darling Healthy Rivers Program – Large Grants, this $504,000 project will enable the installation of an Ultraviolet Disinfection System and pipeline the new Sewerage Treatment Works and Tiger Bay. The project also includes the construction of a Reed Bed at Tiger Bay Wetlands.
Stormwater Quality Improvement for Warren: The $1.72M project funded under the Murray-Darling Healthy Rivers Program – Large Grants will enable the installation of 25 Stormwater Quality Improvement Devices at stormwater locations that discharge directly into the Macquarie River and Gunningbar Creek.
REPORT OF THE MANAGER HEALTH AND DEVELOPMENT SERVICES
ITEM 2 WORKS PROGRESS REPORT
Warren Shire Council has been successful in receiving $9,702 under the Community Building Partnership grant program for waterproof lockers and double-sided changeroom seating at the Warren War Memorial Swimming Pool. Council will match this grant funding. Lockers arrived in early May and changeroom seating has been ordered.
Works have been completed on improvements to the roof and guttering at the Warren Sporting and Cultural Centre.
Contractors have also been appointed to progress several infrastructure projects funded under the Local Roads and Community Infrastructure Program - Phase 3 Grants - Community Infrastructure Projects. These include:
Warren Sporting and Cultural Centre Accessible Amenities.
Warren Sporting and Cultural Centre Retaining Wall and Second/Third Tier Replacement and concrete path work.
Warren Sporting and Cultural Centre Sound Mixer System and External Speakers.
ITEM 3 REQUEST FOR DONATION OF HERITAGE ITEMS FROM THE VISITOR'S INFORMATION CENTRE TO THE WARREN MUSEUM AND GALLERY ASSOCIATION INCORPORATED
Warren Shire Council has deferred the donation of items of historical significance to the Warren Museum and Gallery Association Incorporated for the purposes of public display, to seek further information from the committee prior to making a final decision.
ITEM 4 CHANGES TO GARBAGE COLLECTION DAYS – COMMUNITY ENGAGEMENT PLAN
Following the advertisement for tender of Warren Shire's garbage collection services earlier this year from which one submission was received, Council has appointed a new waste contractor.
JR Richards & Sons commenced the garbage collection service in Warren Shire on 1 July 2022.
To streamline these services, the kerbside collection schedule will be changing from a three-day to a two-day collection cycle from Monday 5 September 2022.
Garbage collection for residences south of Dubbo Street (including both sides of Dubbo Street) and in Nevertire will occur weekly on Tuesdays. Residences north of Dubbo Street and in Collie will have their garbage collected weekly on Fridays.
Over the coming weeks, Council will be engaging in a robust Community Engagement Plan to communicate these changes with all residents.