Council Meeting Highlights - June 2022
24 June 2022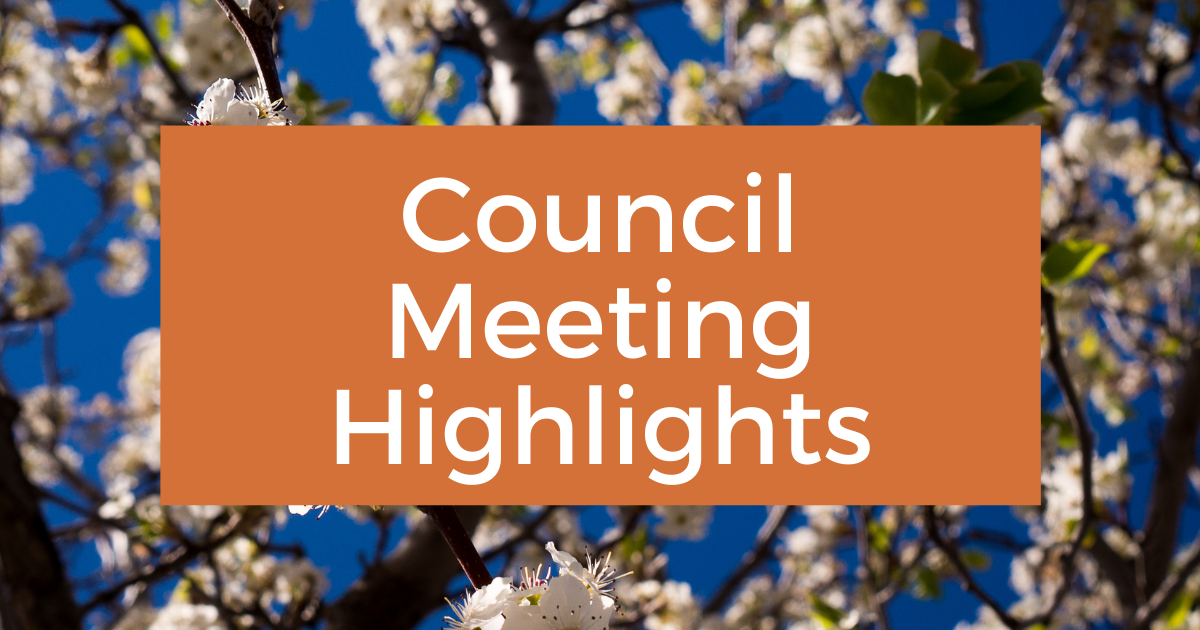 MEDIA PRECIS

Warren Shire Council meets on the fourth Thursday of every month, with the exception of November, which is replaced with a meeting on the first Thursday of December.

All Council meetings are filmed and stored online. To view these proceedings please visit warren.nsw.gov.au/council/meeting-videos

Please find following a selection of highlights from this month's meeting:
POLICY REPORTS OF THE GENERAL MANAGER
ITEM 1 COUNCILLOR AND STAFF INTERACTION POLICY
Warren Shire Council's Councillor and Staff Interaction Policy has been rewritten in accordance with the Office of Local Government (OLG) Model Policy and will be exhibited for a period of 28 days.
ITEM 2 COMPLAINTS MANAGEMENT POLICY
Warren Shire Council's reviewed Complaints Management Policy will be placed on public exhibition for a minimum of 28 days and subject to no adverse submissions being received, the amended Policy will be adopted.
This Policy ensures Council provides a consistent and fair process for the management of complaints in accordance with Council's Code of Conduct. Only minor amendments were made to the current Policy.
REPORTS OF THE GENERAL MANAGER
ITEM 3 WORKS PROGRESS REPORTS – INFRASTRUCTURE PROJECTS
Warren War Memorial Rose Garden
Roses have been ordered for the construction of a new rose garden at the Warren War Memorial, utilising funds from an ANZAC Community Grant.
Upgrade works for Warren Airport are in the final stages, with the new terminal building frame delivered to the site and the old terminal building demolished and removed.

Following quotes for the new terminal building all being above budget, a redesign of the concrete slab has commenced. Council is having difficulty sourcing an available and qualified builder for the construction and fit-out of this facility however, staff are liaising with a number of builders who may be available. The Infrastructure Projects Control Group is currently rescoping and organising a quotation document for this project.
Carter Oval and Development of the Surrounds
The $761,562 works funded under the Murray-Darling Basin Economic Development Program – Improvement of Regional Structures Grant are continuing, with irrigation installed on Carter Oval and pathways constructed between sports areas.
Fields: Construction of the cricket field and turf wicket are nearing completion, with further discussion to take place regarding funding sources for the practice cricket nets, as all quotes received were over budget.
Facilities: Construction is continuing on the soccer fields and junior cricket field, with additional pathways and a car parking area to be built following completion of earthworks, weather permitting. Little A's, cricket and soccer storage facilities have all been re-quoted and are now included in the Amenities Building Tender.
Lighting: Works are also underway on the 500 LUX LED cricket field lighting and poles, together with additional soccer field lighting, which includes Australian-made poles and 200 LUX LED lighting. All light towers have been installed, as well as the electrical switchboard, which is currently awaiting commissioning. The lighting project is funded under the Australian Government's Drought Communities Extension Program and the Murray-Darling Basin Economic Development Fund, Round 3.
Amenities: Tenders for change rooms (with a focus on female competitors) and amenities (including a canteen and viewing area) at Carter Oval, went out in May. The Sporting Facilities Committee has recommended that Council accepts the tender received from Landmark Products Pty Ltd for the design, delivery and construction of Prefabricated or Modular Sports Amenities Building for Carter Oval Youth Sports Precinct. This work is funded through the NSW Government's Stronger Communities Fund, Round 4.
Warren Showground/Racecourse Upgrade
Several projects funded under the Regional Sports Infrastructure Fund are now practically complete. These include:
Equestrian Arena: Following completion of the covered Equestrian Arena, Aqua West has commenced construction of a dust suppression watering system, with misting to be programmed now the Warren Show has occurred. Council has also obtained quotes for the supply and installation of kick rails. The sand floor will be re-laid with suitable sand from Narromine, selected by the Adult Riding Club. Council is working with Club representatives to ensure the project is suitable for handover.
Pony Club Cross Country Facilities: Improvement works for the Pony Club Cross Country facilities were completed last month and are now ready for a final practical completion inspection.
GBS Falkiner Lounge and Viewing Area: Construction of accessible amenities and an existing amenities upgrade including painting, new carpet and tiling have been completed, air conditioning installed and commissioned, seating in the viewing area is nearing completion, painting of the grandstand flooring has been completed, with further works commencing following the Warren Show.
Refurbishment of the Showground Ladies Toilets: Works will be rescoped and may commence after the Warren Show.
Additional projects, funded through the NSW Government's Showground Stimulus Funding Program, Phase 2C, are progressing with works underway:
Work to replace amenities in the Cattleman's and Horse Sports Camping Area have been completed;
Works for the installation of a new septic tank for the Main Pavilion amenities will now commence;
Renovation to the men's amenities in the Main Pavilion to commence following the Warren Show; however, these may be rescoped; and
Council will readvertise for quotes to re-fence the Showground perimeter from local suppliers and rural fencing contractors.
Warren Shire Mural Program
Funded under the Murray-Darling Basin Economic Development Program, Round 3, Warren Shire Tourism, Business Development and Macquarie Marshes Signage, the Warren Shire Mural Program is progressing well.
Following the official opening of the Stafford Street Water Tower Mural in December 2021, the Nevertire Water Tower Mural will soon be underway, with completion expected in mid-July 2022. Work on the Warren Town Murals on Private Property is also anticipated to be completed at this time.
New Warren Sewerage Treatment Plan Upgrade
This $6,150,000 project is now at practical completion, with a Practical Certificate to be issued to allow for commissioning. This is expected in late July 2022.
The final scoping of works is complete for the installation of the Lion's Park Toilet Block, with funding for this community facility from a variety of sources. Council continues to seek funding for the installation of a quality amenities facility in the Warren Central Business District and has submitted a new application to the next round of the NSW Responsible Gambling Infrastructure Funding, following notification that its initial application was unsuccessful. Quotations for both toilet facilities are now available through VendorPanel.
The status of council's current grant applications is as follows:
Awaiting Notification:
$1,800,000 to the Australian Government's Murray-Darling Healthy Rivers Program: Large Grants to upgrade the Bryan Egan Weir (Lower Warren Weir) to include the appropriate fish passage to be developed to 'shovel ready' status.
Unsuccessful:
An application for $250,000 to the Crown Reserves Improvement Fund Program for Stage 2 of the Racecourse Bar and Viewing refurbishments has been unsuccessful.
An application for $300,000 to the Department of Primary Industry & Environment Open Spaces – Places to Play for an adventure playground including children's bike training track for the Carter Oval Youth Sports Precinct development has been unsuccessful.
Following a successful Expression of Interest (EOI), an application for $50,000-$100,000 to the NSW Department of Communities and Justice – Expression of Interest Local Government Social Cohesion for upskilling opportunities within the Warren community, in collaboration with Riversmart Australia Limited, has been unsuccessful.
Council has received late advice that an application for $352,274 of $622,202 to the Australian Government's Preparing Australian Communities – Local Stream for a flood mitigation study in partnership with the Australian National University, has been unsuccessful.
ITEM 4 DETERMINATION OF THE LOCAL GOVERNMENT REMUNERATION TRIBUNAL 2022/2023
Warren Shire Council will adopt the full 2.0% increase as determined by the Local Government Remuneration Tribunal, making the Councillor fee $10,117.19 and the Mayoral fee $27,595.15 as of 1 July 2022.
ITEM 5 DRAFT WARREN SHIRE 2035 COMMUNITY STRATEGIC PLAN, 2022/2023 – 2025/2026 DELIVERY PROGRAM AND 2022/2023 OPERATIONAL PLAN EXHIBITION
The final amended draft of the Warren Shire 2035 Community Strategic Plan (CSP), 2022/2023 – 2025/2026 Delivery Program, and 2022/2023 Operational Plan has been adopted by Council.
This follows an extensive community consultation and engagement process, seeking community contributions to the development of these critical Integrated Planning & Reporting (IP&R) documents, and consideration of submissions received.
The CSP outlines the community's vision for at least the next ten years and details strategic objectives in the areas of social, environmental, infrastructure, economic and civic leadership issues identified by the community and strategies to achieve these. This is supported by the four-year Delivery Program and 12-month Operational Plan.
Council received 38 survey responses and two submissions. Documents can be viewed on council's website.
ITEM 6 DRAFT MEMORANDUM OF AGREEMENT – RIVERSMART AUSTRALIA LTD
Warren Shire Council has endorsed the Memorandum of Agreement between Council and RiverSmart Australia Limited dated 1 July 2022 for the management, operations and maintenance of facilities at the Window on the Wetlands Centre Precinct.
REPORT OF THE DIVISIONAL MANAGER OF FINANCE AND ADMINISTRATION
ITEM 4 ADOPTION OF THE 2022/2023 ESTIMATES & 2022/2023 FEES & CHARGES
Warren Shire Council has adopted the 2022/2023 Estimates and 2022/2023 Fees & Charges, noting there was no submissions received through the public exhibition and consultation period.

The Budget Estimates, Fees and Charges, were exhibited along with Council's Integrated Planning & Reporting (IP&R) documents: the Community Strategic Plan, Delivery Program and Operational Plan.
Council has further resolved to make the 2022/2023 rates and charges (Item 5) as advertised in the 2022/2023 Operational Plan and Estimates, to enable the levying of the 2022/2023 rates in July 2022.
REPORT OF THE DIVISIONAL MANAGER ENGINEERING SERVICES
ITEM 1 WORKS PROGRESS REPORTS – ROADS
The 2021/2022 Roads Construction program is nearing completion, with recently completed works including:
Grading: Tabratong Lane, Kianga-Marebone Road, Pigeonbah Road, Ringorah Road.
Bridge approaches: Carinda Road, Marthaguy Road.
Signs and Guideposts: Marthaguy Road, Wambianna Road.
Rough Surface Signs: Collie Road, Collie-Trangie Road,
Patching and repair: Collie-Trangie Road, Carinda Road, Tottenham Road, Marthaguy Road, Old Warren Road and Industrial Access Road.
Road maintenance and construction schedule
Upcoming maintenance grading and rehabilitation works scheduled for June/July 2022 include:
Buddabadah Road, Dandaloo Road, Tyrie Road, Marthaguy Road, Deacon Drive, Old Warren Road, Pigeonbah Road, Castlebar Road, Bundemar Road, Drungalear Road, Stephens Road and Hatton Lane.
Road maintenance works may be subject to change with any inclement weather.
Capital Works in Progress
Construction for Ellengerah Road Segments 22, 24 and 26 are nearing completion with prime seal applied for all three segments, and Segments 24 and 26 currently awaiting a final seal. This $1.7M project is jointly funded with $698,771 from Fixing Local Roads Round 2, $174,693 in Council Contribution, $211,587 Local Roads and Community Infrastructure Program Phase 2 and $634,762 from Fixing Local Roads Round 3.
Construction on Old Warren Road Segments 26 and 28 are practically complete with final seal now finished. Further works are subject to a variation request. This $1.6M project is jointly funded with $1,259,960 from Fixing Local Roads Program Round 3, $296,147 from Local Roads and Community Infrastructure Program Phase 2, and $123,840 Local Roads and Community Infrastructure Program Phase 3.
Rehabilitation to the Collie-Trangie Road Regional Road No.347 (Segment 14) is now practically complete, apart from a final seal on the last 3 kms. This work is funded through unspent 2020/21 Transport for NSW's REPAIR Grant.
Warren kerb and gutter replacement across multiple streets is scheduled for completion this month.
All works listed are in addition to the regular maintenance, patching, edge repairs, slashing and mowing works carried out across all Council facilities.
Successful Grant Applications
Rehabilitation of Warren Road, Regional Road – Council has received confirmation that its grant application has been successful, providing an extra $2,000,320 from Transport for NSW to fully fund this project. This is the result of Council's extensive lobbying and ongoing consultation with Federal Government, Infrastructure NSW, Transport NSW and Coonamble Shire Council to source additional funds. A meeting was held on 3 June 2022 with Restart NSW and Coonamble Shire Council to agree on funding deed details and reporting responsibilities. Council resolved to give authority for the Mayor and General Manager to sign, under Council's Seal, the final Project Deed.
Collie-Trangie Road, Segment 18 – Council will receive $800,000 under the REPAIR Program 2022/23 for rehabilitation of Collie-Trangie Road, Segment 18; however, its application for the same amount for Segment 14 of the Carinda Road (RR333) has been unsuccessful.
Other grant applications
Council is awaiting approval on its application for $1,255,400 to the Federal Road Safety Program Tranche 4 and 5 for shoulder widening and line marking on RR333 Carinda Road.
ITEM 2 WORKS PROGRESS REPORTS – TOWN SERVICES
Warren Lawn Cemetery Stage 3
Upgrades to the Warren Cemetery are continuing, with the installation of the water main and drainage improvements continuing, following a project rescope. Concept plans for the Cemetery expansion are expected to be on public exhibition from 30 June 2022.
Features of the expansion include increased lawn area and the creation of additional plots within the existing cemetery, including family plots and a series of small memorial walls. With these additions, the modified layout will enable over 1,100 new burial plots.
CCTV – Council Works Depot
A CCTV System will be supplied and installed by Alpha Global in the coming months.
Other grant applications
Council is awaiting responses for the following town services grants:
Tiger Bay Wetlands Effluent Reuse Scheme for Drought Protection: Funded under the Murray-Darling Healthy Rivers Program – Large Grants, this $504,000 project will enable the installation of an Ultraviolet Disinfection System and pipeline the new Sewerage Treatment Works and Tiger Bay. The project also includes the construction of a Reed Bed at Tiger Bay Wetlands.
Stormwater Quality Improvement for Warren: The $1.72M project funded under the Murray-Darling Healthy Rivers Program – Large Grants will enable the installation of 25 Stormwater Quality Improvement Devices at stormwater locations that discharge directly into the Macquarie River and Gunningbar Creek.
REPORT OF THE MANAGER HEALTH AND DEVELOPMENT SERVICES
ITEM 2 WORKS PROGRESS REPORT
Warren Shire Council has been successful in receiving $9,702 under the Community Building Partnership grant program for waterproof lockers and double-sided changeroom seating at the Warren War Memorial Swimming Pool. Council will match this grant funding. Lockers arrived in early May and changeroom seating has been ordered.
Improvement of the roof and guttering at the Warren Sporting and Cultural Centre is scheduled to be completed by the end of June 2022.
COMMITTEE REPORTS
ROADS COMMITTEE
ITEM 5.5 ROAD SAFETY PLAN
The Committee has recommended that Council progress the development and adoption of a Warren Shire Council Road Safety Plan in 2022/2023.
SPORTING FACILTIES COMMITTEE
ITEM 5.3 REQUEST FOR TENDER - AMENITIES BUILDING FOR CARTER OVAL YOUTH SPORTS PRECINCT
The Committee has recommended that subject to a positive financial check, Council accepts the tender received from Landmark Products Pty Ltd of Caboolture Qld for the RFT C13-73 "Design, Deliver and Construct a Prefabricated or Modular Sports Amenities Building for Carter Oval Youth Sports Precinct."
ITEM 4 ACTION CHECKLIST
Remedial works to the Warren War Memorial Pool surface are expected to be completed in July 2022. The pool was drained on 7 June, 2022.
A contractor has been engaged and installation of LED sports lighting at Carter Oval is scheduled for July, weather permitting.
Roof and gutter improvements at the Warren Shire Sporting and Cultural Centre will be completed in June 2022.
The electronic scoreboard will be commissioned next month, with a final report to be provided to the Funding Body.
Council will seek Ministerial consent to adopt the Victoria Oval and Oxley Park Plan of Management.
Tree planting surrounding Carter Oval Sporting precinct fields will be made a priority project within the Carter Oval Sports Precinct Redevelopment Program.