Gary Woodman: Two Years as General Manager
15 March 2023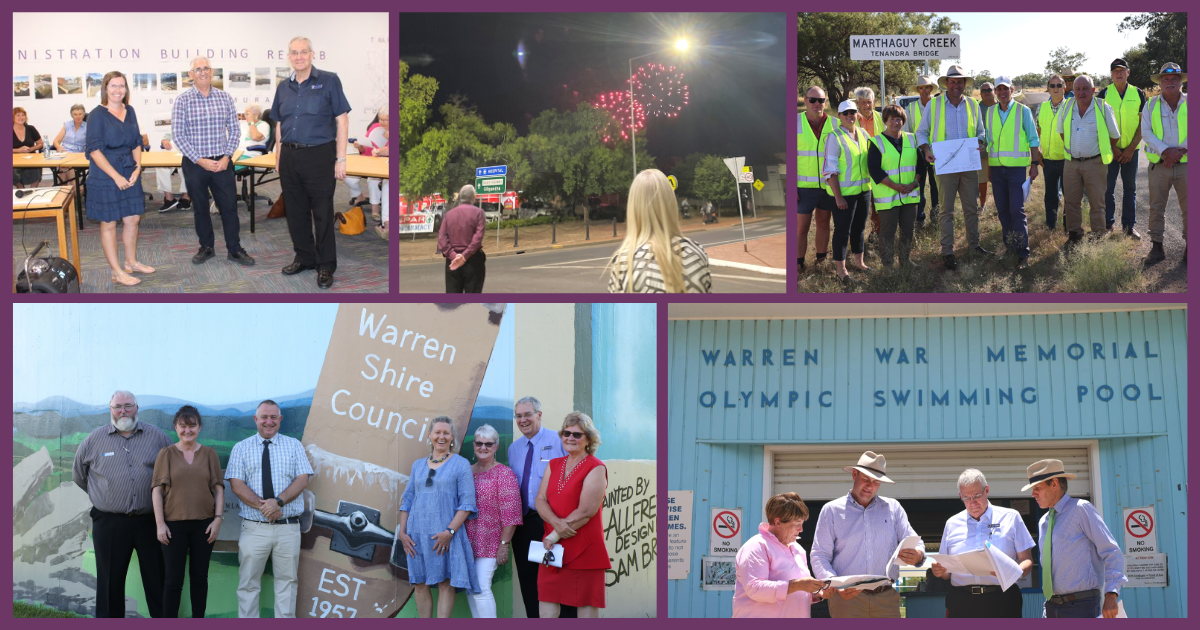 Today, our General Manager, Gary Woodman, is celebrating another year at Warren Shire Council – and the second was just as busy as the first!
Despite the lingering effects of COVID-19 and weather conditions ranging from one extreme to another presenting a variety of unique challenges, we have seen some impressive achievements.
Some highlights of Gary's last two years at Council include:
Completion of the $1.275M state-of-the-art Western Plains Equestrian Arena.
Progression of the $6.7M Carter Oval Youth Sports Precinct project, with lighting installation completed and carpark excavations, topsoil removal, and pitch and outfield works currently underway.
Completion of several Public Art projects, including a stunning mural trail across our Shire and the installation of numerous sculptures created by our talented locals.
Successful management of the ongoing flooding of the Macquarie River and surrounding catchments.
Getting our road maintenance schedule back on track following delays from extreme weather conditions, including $1.67M extension works on Old Warren Road and the recent completion of the $1.72M Ellengerah Road construction.
Recommencement of the Village Enhancement Program including kerb, gutter and footpath replacements, Nevertire Community Park improvements, Noel Waters Oval accessible toilet and shower construction, and Nevertire Hall fencing and surrounds improvements.
Near completion and commissioning of the Warren Sewerage Treatment Plant and Pumping Station and refurbishment of the Wilson Street and Nevertire Sewer Pump Stations.
Development of our new Warren Shire 2035 Community Strategic Plan and other associated Integrated Planning and Reporting Documents.
Successful grant applications to continue improvements to our Shire's road network, including $2.79M under the NSW Government's Fixing Local Roads Program, $1.12M under the NSW Government's Fixing Country Roads program, and $2.41M under the NSW Government's Regional and Local Road Repair Program.
Recommencement of the plant replacement program, allowing the purchase of a new motor grader, rubber tyred roller, two tender trucks, two tractors, two side tipping trailers and most recently, a new prime mover.
Appointment of the new Economic Development and Visitation Manager to drive regional tourism and increase promotional opportunities within our Shire.
Continuing to showcase the wonders of Warren Shire with the second instalment of our Go Beyond destination campaign.
An outstanding end of year celebration at the Australia Day Award winning 2022 Warren Street Christmas Party.
We'd like to take this opportunity to thank Gary and all of the Councillors and WSC staff for their roles in these collective achievements, as well as for being a great team of people to work with each and every day.
After such a jam-packed two years, we're proud of what has been achieved for our community and excited to see what Gary's next 12 months as General Manager will bring.