Riding into Warren Shire Raises $10,000
31 March 2022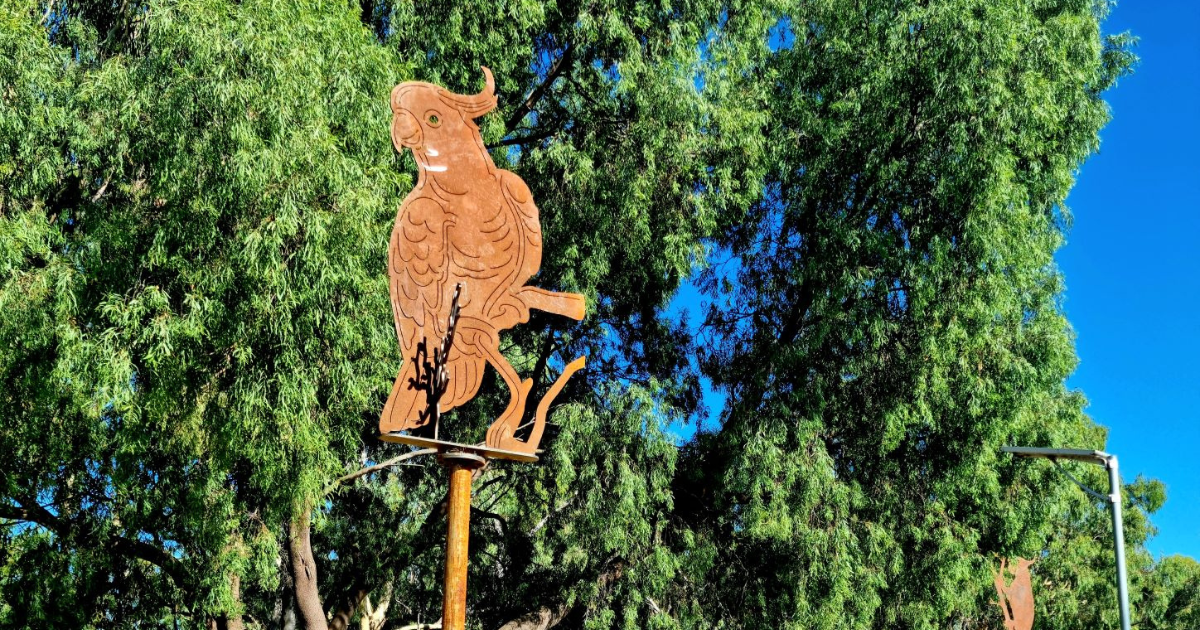 Warren Shire Council and the Rotary Club of Warren recently welcomed 21 Toyota Tour de OROC cyclists and their support crew into the Shire, with a charity dinner and auction to help raise funds for Dubbo's Macquarie Home Stay.
The stop in Warren was day five of the six-day charity event which sees the cyclists riding over 1,100km through the Orana region from Mudgee to Dubbo. Joining the cyclists as they entered the town, were Warren Shire Mayor, Councillor Milton Quigley, and Warren Shire General Manager, Gary Woodman, to support the group on reaching such a significant milestone on the charity ride.
Leading the cyclists through Warren town to conclude the day's ride were Shire locals Johnny White on a Harley Davidson, Red Mick on a Harley Davidson Trike, and Rodney Thornton on a Can-Am Spyder.
Council's General Manager, Gary Woodman, says the cyclists were thrilled with the support of the Warren Shire community as they rode into the Shire and for the generosity of residents during the charity dinner and auction.
"The charity dinner and auction was held at the Window on the Wetlands Centre to congratulate the riders and help raise additional funds for Macquarie Home Stay.
"Macquarie Home Stay provides patients and their family or carers with accommodation pre or post treatment in Dubbo, which is a vital service for regional communities like Warren Shire.
"Through an auction of donated goods, along with sponsorship of the event, the people of Warren Shire contributed a fantastic $10,000 to this important and worthwhile cause," says Mr Woodman.
The event was also an opportunity to also showcase some of the Shire's local businesses and residents with Glen Darcy and his staff from Indigichef cooking the delicious feast, drinks supplied by RiverSmart Australia and Trevor Wilson, from Nutrien Harcourts, keeping the crowd entertained as the auctioneer.
"Many Warren Shire locals contributed donations and time to create such a successful event and stage of the Tour de OROC and I would like to thank and acknowledge you all for your efforts," adds Mr Woodman.
Thanks to Kevin and Bernadine Taylor, Warren Joinery and Hardware, Macquarie Toyota, The Meat House, Western Farm Machinery, Uncle Clarries, Jody Burtenshaw, Milton and Jenny Quigley, Greg and Jane Allan, Geoff Menzies, Deb Kiem and Genise and Brian Hollingworth, for providing auction items.
Warren Shire Council would also like to thank Council staff and the following people and groups for their hard work behind the scenes: Shona Whitfield and volunteers from RiverSmart Australia; Glen Darcy from Indigichef; Trevor Wilson from Nutrien Harcourts, Warren; and The Rotary Club of Warren.
The Toyota Tour de OROC, run by the Rotary Club of Dubbo South, is a challenging six-day biennial bicycle ride created to raise funds for the Macquarie Home Stay. For more information visit: Toyota Tour de OROC