Women of Warren Shire - Barbara McKay
22 March 2023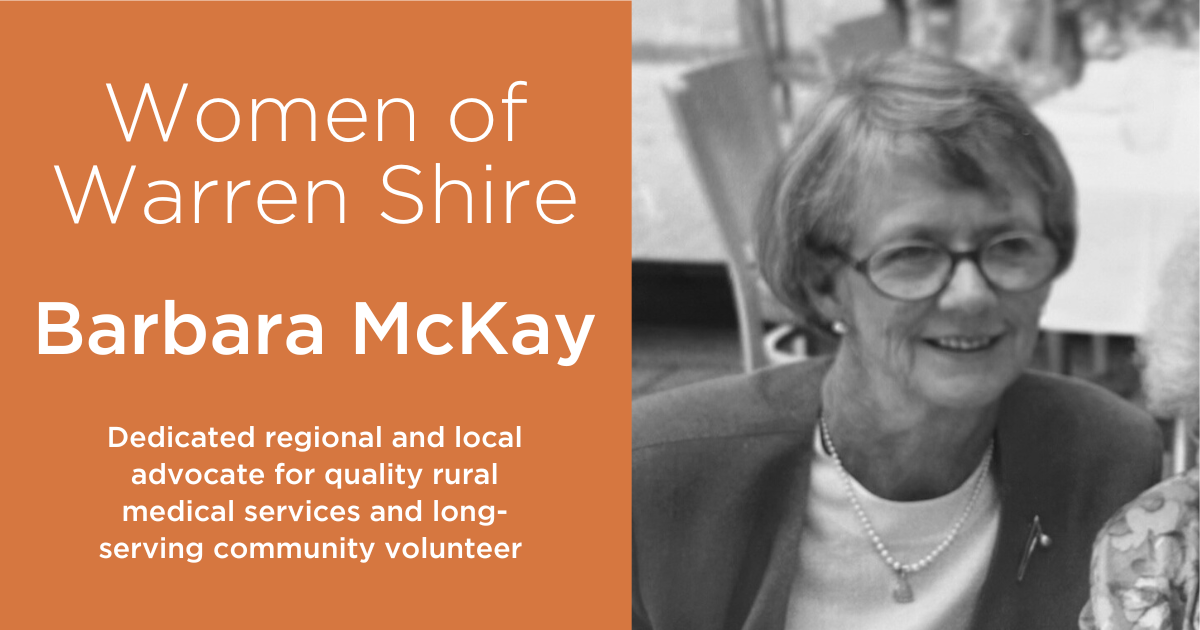 Passionate about healthcare and helping people, Barbara McKay has been advocating for quality rural healthcare since she moved to Warren sixty-five years ago.
Originally a Pathology Technician from Sydney, Barbara has represented country communities for Red Cross, as well as being on the Patient Safety Committee and the Advisory Board at the Warren Multi-Purpose Health Service. She is also a long-serving local volunteer.
As a dedicated advocate and valuable member of our community, we celebrate Barbara's contributions as this month's Woman of Warren Shire.
Quickfire questions…
A usual morning looks like…
The first thing I do in the morning when I get up is go for a walk. I feel if I don't use it, I will lose it!
I'm most proud of…
Probably my family.
And I'm very proud of Warren because it's got a lot to offer.
On the weekend you can find me…
I like to go over to the WOW Centre for coffee on a Saturday morning, and then I'm usually at home during the day. We often have friends come over for a meal on Saturday nights.
A quote or piece of advice you live by…
If something's worth doing, it's worth doing properly.
How long have you lived in Warren Shire?
Sixty-five years.
Favourite place in Warren Shire?
At the moment, I think the WOW Centre and the Museum would be my picks.
I love the beautiful garden out at WOW with all the native plants in it – it's beautifully kept, and I think those panels in the garden are great for people to learn from.
I've also been on the Committee responsible for the new Warren Museum and Art Gallery and I'm very happy to support something as good as that.
Some more about you…
What do you love most about Warren Shire?
I think the friendly attitude of the people in it – it's a lovely community and everyone's very supportive of each other. In a bigger town, you probably don't know your neighbour.
Can you tell us a bit about your journey, including some of your most significant achievements?
I lived in Sydney before I came here, where I worked as a Pathology Technician. Back in those days the roads weren't good and the cars weren't like they are now, so it wasn't feasible to travel to Dubbo for work in a similar role.
When I moved to Warren, I joined the Red Cross so I could get to know people. I worked with the local branch, where I was the Secretary and the President from time to time. Only once was I the Treasurer but that was not my scene at all!
Then I became a Zone Representative for Zone 24, which spanned from Trangie out to Bourke and all the little towns in between. My job was to visit those areas and keep them updated with what Red Cross was doing. After that, I got onto the Red Cross Advisory Committee as a Country Representative. I travelled once a month to Sydney for this and it was very productive.
I also had five children to be reared and became involved with the schools. At the Sydney schools, I was again a Country Representative, and then at St Mary's, I was President and Secretary. We used to swap around – I never did more than three years or so at a time because I used to get stale.
Following your work with Red Cross, you're now involved in the local hospital. What role do you have there and what do you enjoy most about giving back to the community in this way?
I'm on the Warren MPHS Advisory Board and I'm also on the Patient Safety Committee as a community member.
I enjoy working at the hospital because I've always been interested in the medical field and I think that it's important. Dubbo's not next door, so we need to have quality healthcare services and facilities here for people when they need them.
You're also known for your previous volunteer work at the Visitor Information Centre. What did this encompass and why do you think it's important to support local tourism?
We actually offered to do it for Council when we had a craft shop at the old Post Office because people used to come in asking questions like "Where's the toilet?" and "How far are the Marshes?". We said to Council that if they gave us the information we could just hand it out, and that's more or less how it started.
You meet very interesting people in these types of roles. It's important to support our local visitor information services because if you want things to work, you've got to put something in to get something out.
As a former member of the local Country Women's Association (CWA), do you think it's important to have organisations like the CWA to support and advocate for women in rural areas?
I was a member for years and years but I never took on any official position there because I was so involved in the Red Cross. I always said, "if you want some help, just tell me". Usually, what we needed was food and with a bit of notice, I could easily rustle up a cake or some biscuits when needed.
I think the CWA is a valuable voice for women in rural areas.
What advice would you give to other women living in country communities?
Life's only going to be what you make it. You've got to make the best of what's around you and have a go.
To nominate a Warren Shire woman to be featured in this series, email media@warren.nsw.gov.au