Women of Warren Shire - Janice Hardman
26 April 2023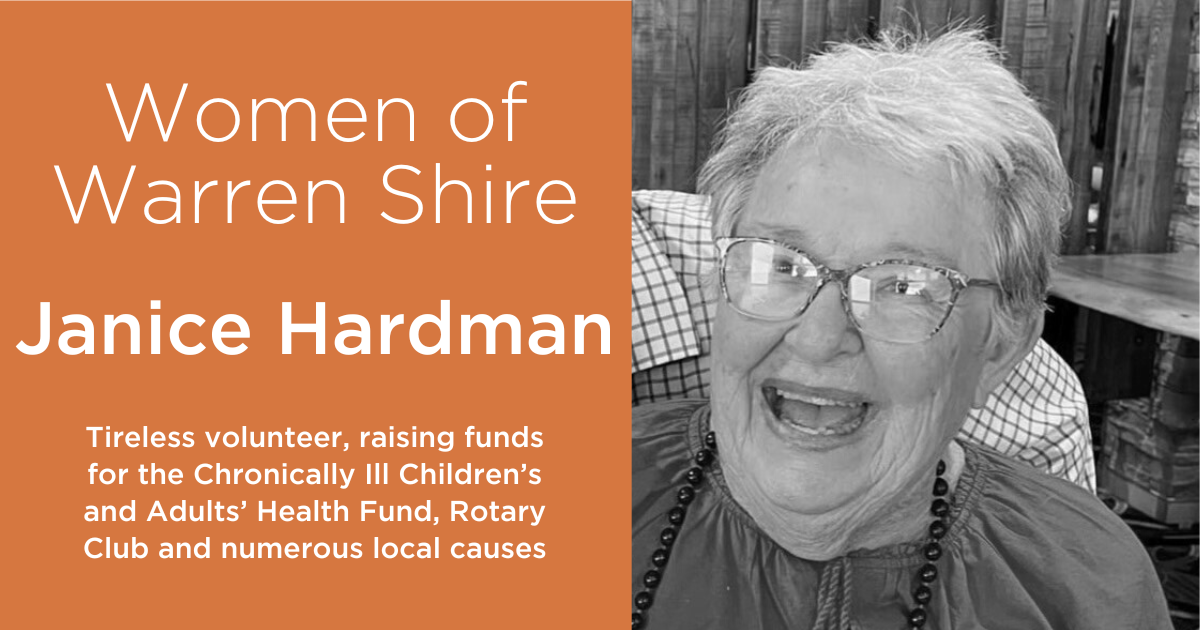 A familiar face in Warren Shire, Janice Hardman is a dedicated volunteer and advocate for many community causes and organisations.
As a member of the Rotary Club and an ongoing supporter of the Chronically Ill Children's and Adults' Health Fund, Janice spends her time raising funds for anyone who needs them, from local causes to overseas disasters.
A motivated woman devoted to bettering the lives of others, we celebrate Janice's contributions as this month's Woman of Warren Shire.
Quickfire questions…
A usual morning looks like…
Sitting on my front veranda having my morning coffee and then preparing dinner – because if I don't, I will just eat junk!
I'm most proud of…
My kids, my siblings and myself.
On the weekend you can find me…
Reading, socialising, volunteering or just relaxing.
A quote or piece of advice you live by…
Pull up your big girl panties and get on with it. Haha!
How long have you lived in Warren Shire?
I was born here and then moved to Paddington in 1960. I moved back around 2003.
Favourite place in Warren Shire?
The residents would have to rate right up there, closely followed by the facilities, such as medical, sports, educational and arts.
Some more about you…
What do you love most about Warren Shire?
I think the friendly attitude of the people in it – it's a lovely community and everyone's very supportive of each other. In a bigger town, you probably don't know your neighbour.
Can you tell us a bit about your journey, including some of your most significant achievements?
I've moved around a bit in my life, from Warren to Paddington, then 10 years later to Lane Cove, and 10 years later again to a small sugar mill town called Broadwater on the far north coast.
At 50 years old I got my first tattoo and jumped out of a plane. I worked a variety of jobs and then got divorced and moved back to Warren.
I've renovated five houses whilst living in them with four kids – not an experience that I would like to repeat in a hurry! It got me to where I am today though.
Another fond memory of mine is enjoying a hot air balloon flight with my Warren friends.
You often dedicate your time to raising money for the Chronically Ill Children's and Adults' Health Fund. What do you find most rewarding about volunteering for this worthy cause?
I find it very satisfying to be helpful to others, especially having spent quite a lot of time in hospitals having my four kids.
To be able to ease just one worry from their minds is very rewarding – besides, raising funds is great for socialising. Win-win situation!
You're also known for your involvement in the local Rotary Club. Can you give us some insight into what Rotary is all about and what you enjoy most about being part of this organisation?
I was asked why I wanted to join Rotary because "they were all old…" Well, we may be old but we are all motivated, mostly energised, and very willing! I joined Rotary because I wanted to get out of my comfort zone.
We raise money for different projects and most of the proceeds are spent in Warren Shire, but we also fundraise for overseas disasters. Our weekly meetings are not compulsory and we have a lot of fun. Rotary is all about the betterment of others.
And of course, you've made a reputation for yourself as a familiar face at many local events. Why do you think it's so important to support the community in this way?
I'm a believer that you get out of a community what you contribute to it. Besides, I love to socialise – I enjoy our town and its people.
What advice would you give to other women living in country communities?
Get up, get out and join in. To be accepted, you have to be accepting.
To nominate a Warren Shire woman to be featured in this series, email media@warren.nsw.gov.au