Women of Warren Shire - Mary Small
30 November 2022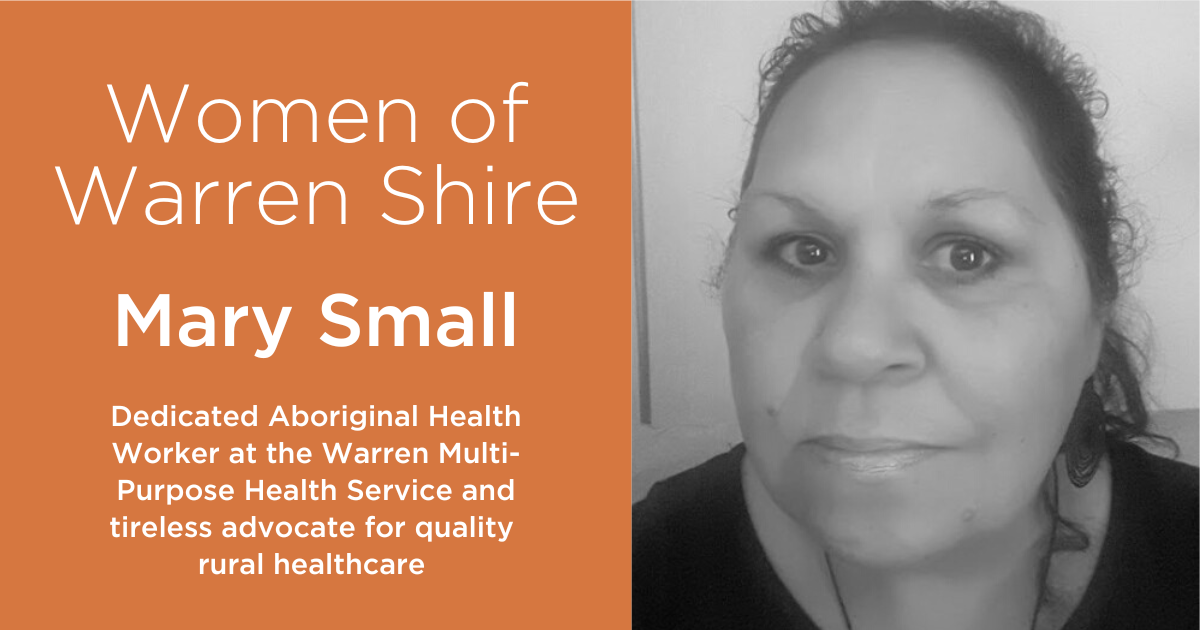 Mary Small wears many hats in her everyday life as the Aboriginal Health Worker at the Warren Multi-Purpose Health Service (MPHS), caring for a number of people from all walks of life.
She is also passionate about campaigning for access to healthcare services in regional and rural communities and was instrumental in supporting local vaccination clinics during the peak of the COVID-19 pandemic.
As a selfless and devoted member of our community, we celebrate Mary's contributions as this month's Woman of Warren Shire.
Quickfire questions…
A usual morning looks like…
I work fulltime at Warren MPHS as the Aboriginal Health Worker so you will find me at work from Monday to Friday. On weekends I'm out and about visiting family or making a trip out of Warren to see friends and family.
I'm most proud of…
I'm most proud of my three daughters – they all live in New Zealand. They are independent, strong women and I admire them in every way as they navigate life with confidence, both in their work and personal lives.
On the weekend you can find me…
I usually find on the weekends I take a lot of downtime for myself to recharge for work and my busy schedule. I like reading, cooking, catching up with friends and family or watching a good movie.
A quote or piece of advice you live by…
I always find myself saying when things are out of my control, it is what it is!
How long have you lived in Warren Shire?
I have been living back in Warren Shire for four and a half years now. Prior to that, I was born in Dubbo and grew up in Warren until I was 18 years old.
It's great to be back on Country.
Favourite place in Warren Shire?
My favourite place in the Warren Shire is the Beemunnel Aboriginal Reserve. I love going there for a walk around. This is home and I find it very peaceful and calming going there and reconnecting back to Country.
Some more about you…
What do you love most about Warren Shire?
I love living back in Warren Shire where the majority of the community know your name. You always get a "G'day" or a wave from someone and it's so nice to see a friendly familiar face when you are out.
Can you tell us a bit about your journey, including some of your most significant achievements?
I have lived in a few places over the years since leaving Warren initially, such as Sydney (Bondi Junction, Randwick, Five Dock, Newtown, Rose Hill, Ingleburn, St Andrews), Brisbane and New Zealand (Rangiora, Dunedin, Waikuku Beach – all in the South Island). I have thoroughly enjoyed living in these areas and have no regrets at all.
Workwise, I have always loved working in health, specifically in aged care, as a support worker, home care worker and residential care worker. I also worked many years as a Teacher's Aide, working with children with severe behaviour and learning difficulties.
I've come full circle back to living and working in Warren, now at Warren MPHS as the Aboriginal Health Worker.
You play an important role as an Aboriginal Health Worker at the Warren Multi-Purpose Health Service (MPHS). Can you tell us more about what your job involves and what a typical day looks like for you?
My job involves many hats, working to support individual clients on their journey with their own health issues.
I support many areas of health – aged care, respiratory, palliative care, eye care, hearing, dental, pathology, radiology, and supporting clients at specialist appointments when required. I also support clients in the Emergency Department (ED) or on the ward if they need help.
A typical day can entail a quick trip to Dubbo, supporting clients or being in the community caring for clients in their homes and at any appointments they need support for. No two days are ever the same.
You were also instrumental in supporting the operation of vaccination clinics during the peak of the COVID-19 pandemic. Why do you think access to health services like this is so important for rural communities?
Thank you. Like healthcare providers all over the country, everyone at the Warren MPHS was busy throughout the pandemic supporting all the various clinics happening within our local community.
It has been so important to have these health services available for everyone to access locally throughout the pandemic so that people don't have to travel out of town.
Have you always worked in healthcare, and if so, what drew you to this area?
Yes, the majority of my work experience has been in healthcare, specifically in aged care.
I think growing up in a close-knit Aboriginal family and community, always being around my aunties, uncles and grandparents, we were taught from an early age to be respectful and always help others when they need us.
What advice would you give to other women living in rural communities?
No advice – we are all on our own journey in life so enjoy it all… the good, the bad and the ugly. 😊
To nominate a Warren Shire woman to be featured in this series, email media@warren.nsw.gov.au