Women of Warren Shire - Gwen Hazell
29 April 2022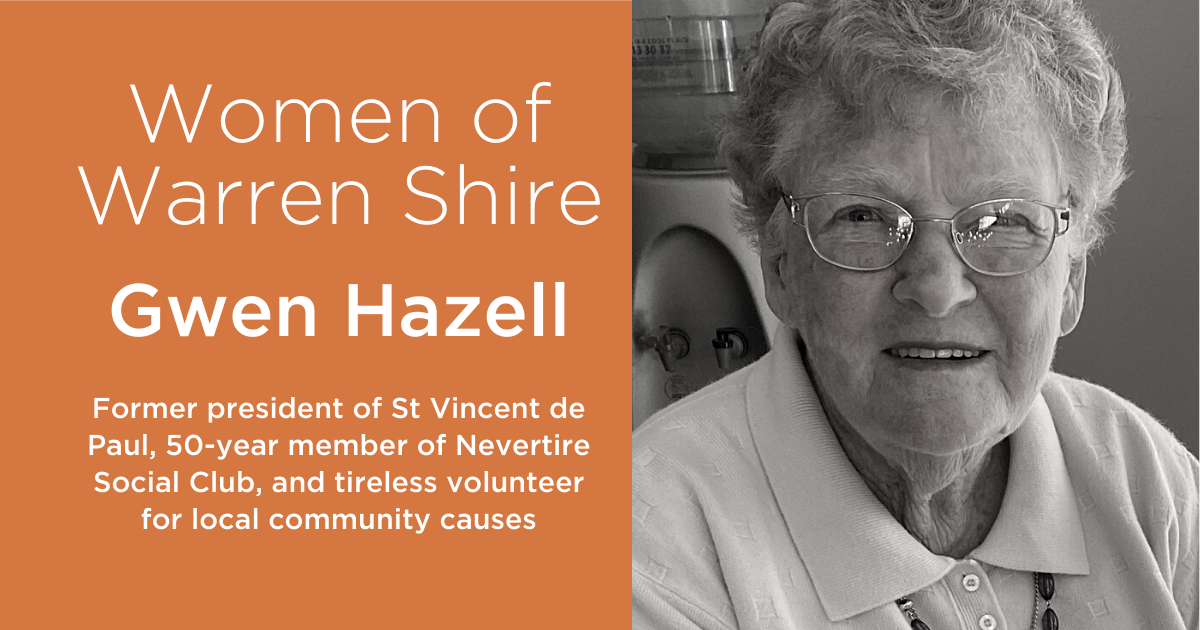 Gwen Hazell has lived in Nevertire for 85 years, moving from the big smoke in Sydney when she was just two years old. During this time Gwen has been a committed and engaged member of the community, from her involvement in the Nevertire Social Club to her fundraising efforts for the Warren Community Op Shop.
At 87 years young, we celebrate Gwen's community contributions as this month's Woman of Warren Shire.
Quickfire questions…
A usual morning looks like?
Nothing too exciting, just the usual housework, tidy up, washing, and breakfast. Sometimes we don't even make breakfast, we just have a bit of toast or cereal.
I'm most proud about?
I'm proud of all my family, and I'm proud of what I've done in the community over the years.
Fondest memory of growing up in Warren Shire?
It was just so different; Nevertire is a very quiet little town. Everyone was so friendly and helped one another. I've made a lot of friends with the ladies at the Warren Community Op Shop over the 15 years I was there, and whenever I see them in Warren, I always call in for a cup of tea.
Favourite place in Warren Shire?
Home nowadays.
On the weekend you can find me?
On Friday nights I'll be helping sell raffle tickets for the Nevertire Social Club and then I'll come home and watch the football. The Social Club has a big raffle at Christmas time, when that's on I sell tickets in the streets at Warren.
3 words that sum up living in Warren Shire?
Friendly, quiet, laid-back.
What do you love most about Warren Shire?
The people. I met so many people at Vinnies and the Community Op Shop, I was friends with everybody.
Some more about you…
Can you tell us a bit about your journey, including some of your most significant achievements?
I worked at Vinnies for 12 years and became President when the new centre was built. I remember the builder telling me the shop was only standing because the white ants were holding hands. I'd just had two knee replacements at the grand opening but it was lovely.
I've also been involved in the Warren Community Op Shop where we raised thousands for the Warren Hospital and Calara House. The doctor's surgery needed a lot of new equipment too, so we paid for that as well. We had so much support from everybody, even people from Dubbo came to drop stuff off at the shop. It was a very sad day when the shop closed in 2020, and a lot of tears were shed.
I've been a member of the Nevertire Social Club for 50 years and have held every position in the committee - I'm Treasurer still now. The Social Club recently received a grant and we were able to use the money to build park amenities and toilets. The Council has been good and helped us since we don't have many members anymore.
I also used to take people to Dubbo for medical appointments with Warren Community Transport. I can't do it anymore, but now my daughter runs the transport in Warren and Trangie.
I was also honoured to be awarded Warren Shire Council's Citizen of the Year in 2017.
As such an engaged member of the community, what do you love about being involved in our local events and organisations like the Nevertire Social Club?
I thrive on it. I just enjoy it. I can't do many physical things now but I like to do the books and arrange raffles where I can - I have a Mother's Day raffle going at the moment. I just like being involved. You can't sit in the house all the time when you get to this age. But I do like to read and I get books from the Warren Library.
You've rallied behind many fundraisers to support worthy causes in our community, what do you enjoy most about your volunteer work?
It's a great achievement to raise that amount of money and be able to help people. When I had a lot of ladies at the Warren Community Op Shop we used to do the Biggest Morning Tea at the hospital. We would all cook and take orders to deliver them by morning tea time. It was a very early start but all the money went to the Cancer Council and that's the most important part.
To nominate a Warren Shire woman to be featured in this series, email media@warren.nsw.gov.au