Women of Warren Shire - Jess Taylor
31 October 2022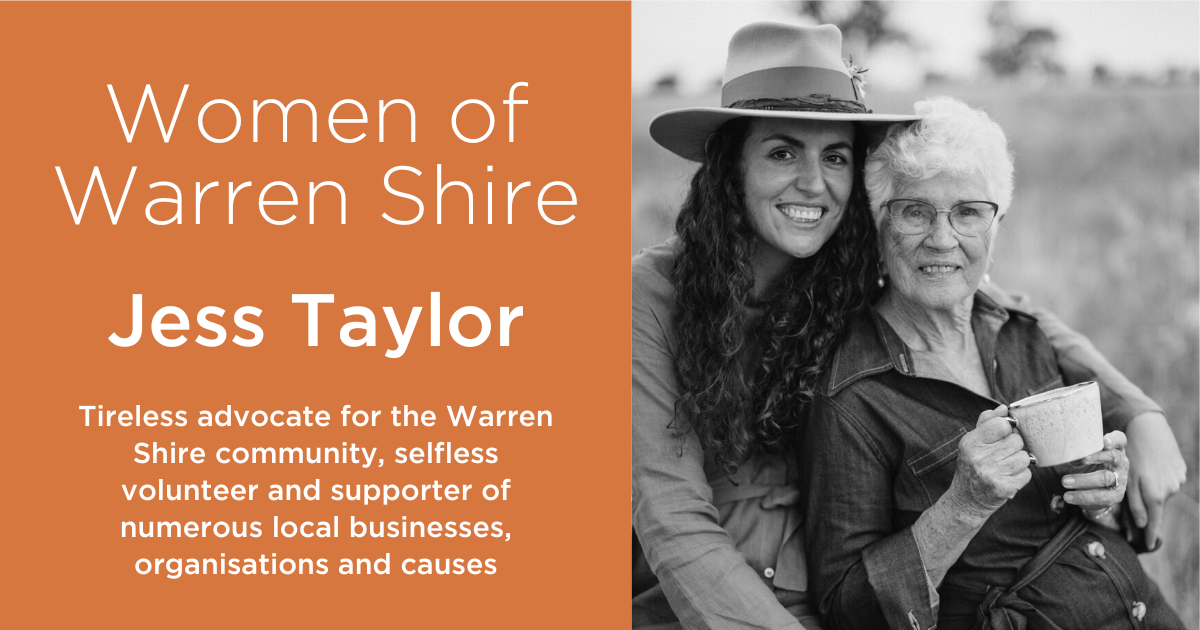 Born and bred in Warren Shire, Jess Taylor is a long-time volunteer and dedicated supporter of numerous local businesses, organisations and causes. When she isn't rallying crowds and spreading news far and wide, you can find Jess tending to her beloved garden, where she has also hosted a number of charitable events.
As a tireless advocate for our local community, we celebrate Jess' contributions as this month's Woman of Warren Shire.
Quickfire questions…
A usual morning looks like…
Enjoying a hot cup of coffee before the kids get up before rushing around to drop them at daycare – some days I have three different drop-offs. Then I head to work as the Store Manager of Warren IGA.
I'll worry about adding yoga and eating breakfast to my routine when the kids grow up!
I'm most proud of…
My life. My family. My town.
On the weekend you can find me…
As much as I'd love to be at a country picnic race meeting, you'll find me at home with the kids, gardening, or enjoying a counter lunch at the Warren Golf Club or Nevertire Pub.
My favourite thing to do is be out in the sunshine. Whether that's pottering around my garden or enjoying a schnitzel and schooner, there's nothing better.
A quote or piece of advice you live by…
Life is what you make it. You get out what you put in.
How long have you lived in Warren Shire?
I've been here my whole life – born and bred as they say.
I went to Warren Preschool and St Mary's Parish School, then off to Mackillop College in Bathurst for high school.
My childhood memories include plenty of time outside at Pony Club and playing polocrosse. Me and my siblings spent countless hours riding horses and helping our dad with cattle and sheep work.
I spent one year traveling Europe then came straight back to the levee bank where I belong. I say all the time that I would never leave Warren – I absolutely love it!
I wish for my kids to go off and do whatever they like in their adulthood, but I hope they settle in a small community where they feel like they belong, as I do in Warren.
Favourite place in Warren Shire?
I can't choose just one favourite place because I've got several! I love so many parts of our Shire.
I love a race meeting down at the Racecourse, dancing at the Golf Club, a counter lunch at Nevertire or Collie, playing at Macquarie Park or at the Splash Park and pool with the kids. But most of all, I adore visiting any garden that I'm invited to and watching a country sunrise or sunset.
Sunshine warms my heart, so anywhere where I can be outdoors is my happy place.
Some more about you…
What do you love most about Warren Shire?
I love the sense of community, and that you can walk down the street and catch up with anyone because everyone is always up for a chat.
I enjoy the fact that most people have the same attitude when living in a small community.
I feel safe.
Can you tell us a bit about your journey, including some of your most significant achievements?
My family is my most significant achievement. My husband, JT, and I have three children – Elsie (3) and twins, Eliza and Audrey (1). I love watching the kids develop and grow into their own individual people, and I love that we can give them a bush childhood like ours.
I'm extremely thankful for everything both our families have given us. My mum, Maureen, was a midwife and nurse at Warren Multi-Purpose Health Service for 40+ years. She was known as a kind, caring and humble person, and the most loving mum.
My nan-in-law, Elsie Lefebvre, is so similar to my mum and has donated her time and effort to the community of Warren for 70 years!
I believe you couldn't find two more beautiful people and all I hope for is that people will remember me for similar characteristics.
I'm also incredibly proud of my job at Warren IGA. I love the social side of catching up with customers and being able to provide a great shopping experience in our town.
Among other things, you're known for your involvement in the Warren Golf Club. What role do you play in this organisation and why do you think it's important to support local businesses like the Golfie?
All I've ever wanted is for people to have fun – me included! I want to see events happen just as much as everybody else. Over the years I've learned how to rally the crowds and make the most of the situation at hand.
We may not have bustling nightclubs but it's what you make it – some of my best nights are with only a handful of people. I always say, "10 minutes of awkward dancing will get everyone in the mood and the dance floor will be packed".
Over the years, together with a bunch of like-minded friends, we have organised several Oktoberfests and a couple of beach parties, as well as plenty of DJ and band performances.
I find it so important because if we don't support these businesses they will close. Unfortunately, we have seen the closure of the Royal Hotel, Bowling Club and Club House Hotel all in the last 10 years and we can't afford any more.
If you aren't into big nights, get out and support the meat raffles or enjoy a meal at your local pub or club. The same goes for all of our local businesses – just walking in and showing your face can make the shopkeeper's day.
I also have a soft spot for traveling backpackers because when I lived in Ireland after school I found it hard to have fun and make friends.
You've also been described as a "firecracker" who "never sits still". Can you tell us a little bit about some of the other local projects, organisations or causes that keep you busy?
I was very lucky to purchase a house that had a beautiful garden in 2015, and since then we have hosted several garden parties and a nursery pop-up day. We donated all profits from these events to buy Christmas presents for children at Dubbo Base Hospital.
In other years we have donated to the Warren Cancer Relief Fund which helps Warren community members in need. I'm not into donating to big corporations as I'd prefer to keep it local!
I also love giving roses to friends and family – I'm very proud of my flowers and it always brings a smile to their face. A small gesture like this can brighten someone's day and mood.
As a known advocate for Warren Shire, what do you find most rewarding about promoting and facilitating communication around local events, assets, facilities and organisations within our community?
Because I like to see events go ahead and to see people putting themselves out there and giving anything a go. I want people to see the joy of living in a small community, to feel love and support in trying times, and a sense of belonging.
I hate hearing people complain that "there is nothing to do". My personal philosophy is that if you get out of your comfort zone, you'll probably have a great time.
You may not be into horses, but why not head out to the races, polocrosse, campdraft, Pony Club, or the Nevertire Rodeo and see what it's all about?
Or if that's not your style, watch a game of junior league or union. Buy a beer and a steak sandwich, and have a chat – it's great for your mental health!
I enjoy seeing people who wouldn't usually be at an event having a great time – it warms my heart.
What advice would you give to other women living in rural communities?
Give it everything you've got – join a club, play a sport and get amongst it!
You might think it's not for you, but once you let your hair down you'll realise how fantastic rural communities really are and you'll never want to leave.
Give it your all.
Get involved.
Get comfortable being uncomfortable!
To nominate a Warren Shire woman to be featured in this series, email media@warren.nsw.gov.au