Women of Warren Shire - Kaye Martin
28 September 2022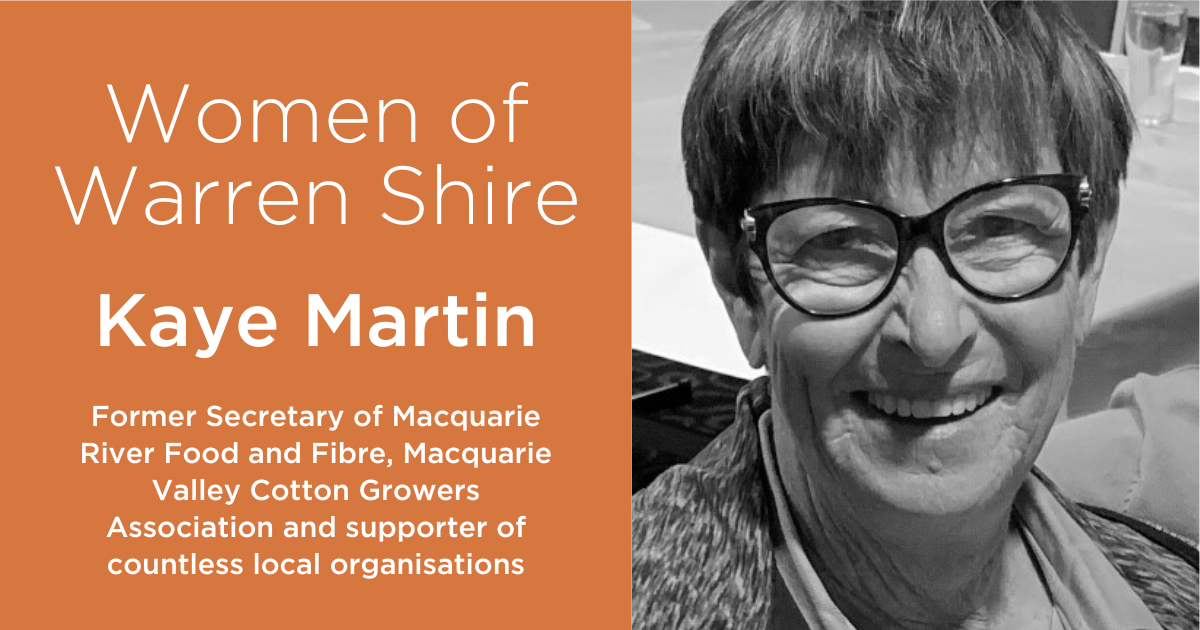 As former Secretary of both Macquarie River Food and Fibre and the Macquarie Valley Cotton Growers Association, Kaye Martin has played an integral role in supporting the local farming community over the years. She is also known for dedicating her time to countless other local organisations, including her continued support of the Warren Golf Club.
An engaged member of the community and keen golfer, we celebrate Kaye's contributions as this month's Woman of Warren Shire.
Quickfire questions…
A usual morning looks like…
A couple of cups of coffee while doing the daily newspaper crossword.
I'm most proud of…
My son, Nigel, and my two beautiful grandchildren, Cooper and Mia.
On the weekend you can find me…
Playing golf or socialising with friends.
A quote or piece of advice you live by…
Do unto others as you would have them do to you.
How long have you lived in Warren Shire?
46 years.
Favourite place in Warren Shire?
Warren Golf Club.
Some more about you…
What do you love most about Warren Shire?
The friendliness and support of the people in the community at all times.
Can you tell us a bit about your journey, including some of your most significant achievements?
I opened my own secretarial business in 1986, which I sold in 2006. Through the business, I was heavily involved in supporting several local community groups, including the Warren Show, Warren Jockey Club, Macquarie Valley Cotton Growers Association, and Macquarie River Food and Fibre.
You mention your involvement in several agricultural organisations. Can you explain your role in these associations and why you became involved in them?
My role in both Macquarie River Food and Fibre and the Macquarie Valley Cotton Growers Association was as a Secretary, which I did through my business. I think both of these organisations are an integral part of Warren Shire and vital in supporting our local businesses and farming community.
You were instrumental in the execution of the River Festivals which were held in Warren several years ago. Can you tell us a little bit about the festivals and their impact on the community?
The River Festival originated as a major fundraiser to build the Warren Sporting and Cultural Centre. This centre is now used as a major indoor sporting complex and clubhouse, and to host a range of other functions, bringing not only the community but visitors together.
You have also been heavily involved in both the Warren Golf Club and Warren Jockey Club. What do you enjoy most about being part of these organisations, and how important do you think sporting and recreational clubs like these are for rural towns?
These clubs play an important role in our community, and both organisations are committed to the Warren citizens, as well as providing first-rate facilities.
What advice would you give to other women living in rural communities?
My advice would be to get involved in your local community. In small country towns, everyone needs somebody they can count on. We cannot survive without a strong community spirit.
To nominate a Warren Shire woman to be featured in this series, email media@warren.nsw.gov.au