Women of Warren Shire - Kelly Sinclair
11 July 2022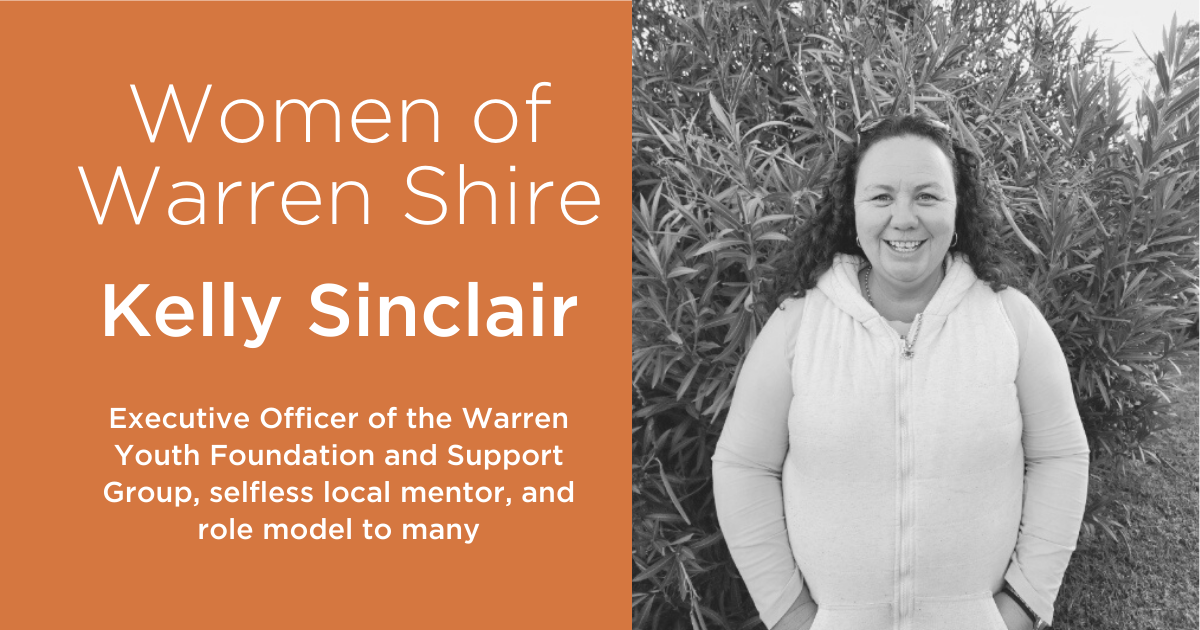 Unable to resist the laidback lifestyle and country charm of our beautiful Shire, Kelly Sinclair returned to live in Warren for the second time after spending 14 years on the Central Coast. Since she's been back, Kelly has certainly made an impact, dedicating much of her time to creating a safe space for local disengaged youth.
With a passion for supporting and nurturing young people throughout their adolescence and into adulthood, this month we're recognising Kelly's contributions to the community as our Woman of Warren Shire.
Quickfire questions…
A usual morning looks like…
I wake up early and have a cup of coffee with my husband while watching the news headlines. I head out the door by 8am – it's a 50 kilometre drive to town, so it gives me time to organise the full day ahead.
I'm most proud of…
My family. I have a supportive husband, two sons, three daughters, and three grandbabies. These guys are my world and have helped me to achieve everything I have. I am very blessed to have them all as part of my life.
On the weekend you can find me…
Usually at home on the farm – I'm most at peace when I'm out there. We often just have social gatherings with family and friends, which is a lovely way to unwind.
What is your favourite memory of living in Warren Shire?
The day we moved back after being away for 14 years. The feeling of new beginnings and the sense of being home is something I will never forget.
Favourite place in Warren Shire:
Home – on the banks of the Macquarie River.
Three words to describe Warren Shire:
Peaceful, laidback, quiet.
Some more about you…
What do you love most about Warren Shire?
The people of the Warren Shire community. Although I will never be a 'true local', I have always been made to feel welcome here, and the opportunities present for people of all ages are amazing.
Can you tell us a bit about your journey, including some of your most significant achievements?
I was a young mum – I had my first son at just 16 years of age. With the support of my loving family, I was able to raise five amazing and very responsible young adults. I owe everything that I do today to them. They inspired me to be a better person, to show support, and have patience. I'm really proud of the people they have become.
Another significant achievement is the development and opening of the Warren Youth Centre and Community Hub. Having participated in a Youth Centre myself as a teen, I know the importance of having access to a safe, stable environment where everyone is treated equally. I love that I have been given the opportunity to make this happen in a small rural country town.
Can you give us the run-down on the Warren Youth Support Group? How did it come about and how has it evolved to what it is today?
A local retired farmer, Tony McAlary, started with the idea of getting disengaged youth upskilled and work-ready. The job-ready program is one of our main focuses.
Eventually, we decided we needed to start with kids a little bit younger to try to help with early intervention. That's when we started holding community activities and sporting days, which eventually led to needing a space to operate from, and the plans for the Warren Youth Centre and Community Hub began to take shape.
You play such an important role in the organisation. What does your average day at work look like?
Being a not-for-profit, philanthropic organisation, we don't receive any ongoing financial support. So, most days consist of trying to find funding to keep us operational, which means a lot of grant writing. Also, program planning, community engagement, and bookwork.
Then, at 3pm, that all stops so that I can focus on the kids who come in after school. We do weekly cooking classes, arts and crafts, dance competitions, play basketball or pool on a Friday with the local police, and most importantly – we just talk.
Identifying issues that our kids face is the most important part of my day.
Have you always worked in this field?
No, this is my first job working in the Community Services field – my background is in retail and banking.
Working with youth and their families is my favourite job by far though, and I can see myself staying in this industry for a long time to come.
As someone who is so passionate about helping others, what do you find most rewarding about this job?
Seeing the shift in community morale by bringing people together through social events, support, and mentoring.
One small act of kindness can be enough to turn a person's whole life around and make a positive difference. When you can provide that to someone else, it gives you a natural sense of accomplishment.
What advice would you give to other women and young people living in rural communities?
Get involved in every opportunity presented to you, build a secure network within your community, and most importantly, just be kind – especially to yourself.
To nominate a Warren Shire woman to be featured in this series, email media@warren.nsw.gov.au