Women of Warren Shire - Margaret 'Sis' Lefebvre
22 August 2022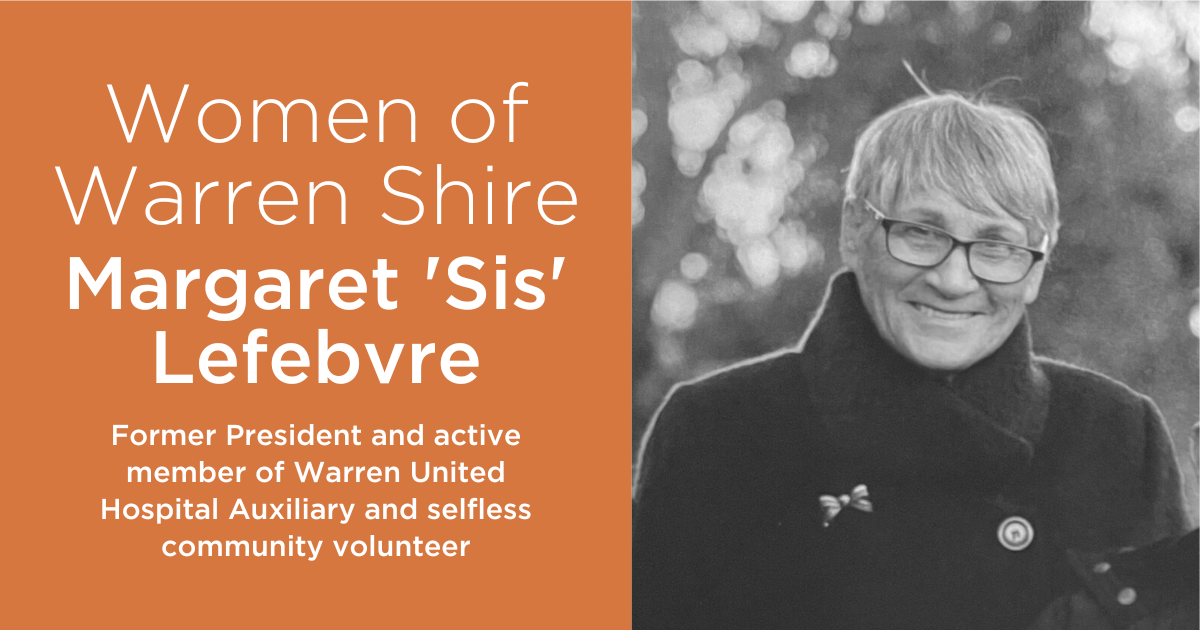 Local through and through, Margaret 'Sis' Lefebvre is a familiar face in the Warren Shire, particularly within the Warren United Hospital Auxiliary and St Vincent De Paul Society. With a heart of gold and a listening ear, she's always ready to pop the kettle on for a cuppa and a chat when you need one.
Passionate about helping others and supporting local causes, this month we celebrate Margaret's contributions to the community as our Woman of Warren Shire.
Quickfire questions…
A usual morning looks like…
I'm an early riser. I get out of bed early, make my bed, have my breakfast and just do what I've got to do.
I'm most proud of…
My granddaughter. She's a beautiful girl, and she teaches at Nyngan at the primary school.
On the weekend you can find me…
Out in the yard, if it's not raining. I don't like being inside; I'm not an inside person.
How long have you lived in Warren Shire?
I've lived here all my life. Actually, I tell a lie… I went to Canberra to live for six weeks, and I cried the whole six weeks!
What is your favourite place in Warren Shire?
I'm a bush person, and I like the bush. I like to do the walkways, and those sorts of things.
I used to take the old people around in the bus to all the places out of town where they couldn't go, because they couldn't drive.
I also used to take them out to the bonfires, and at Christmastime, they used to love seeing all the lights. I used to love doing that – it was so special to them.
Where would you be living if you weren't in Warren Shire?
I wouldn't go anywhere else. I'm here to stay.
Some more about you…
What do you love most about Warren Shire?
It's a nice, clean little town. And I know everyone in town – everyone's always nice to you.
I love the Racecourse, too. I think the Racecourse is a great place and the Council's done a lot of good things there.
It's a really clean, nice area, and a good spot to have a party! My granddaughter had her twenty-first birthday party there, and we did it all up under the bar area. It was lovely.
The parks are lovely in Warren, too – they've got a lot of water in them right now, though!
Can you tell us a bit about your journey, including some of your most significant achievements?
I've had a good life. I worked at the hospital for about 50 years and it was always good.
I did a lot of work out on properties, too. I used to drive cotton pickers and run the cotton crews.
I had a lot of people work with me from out of town – places like Coonamble, Coonabarabran, all around Dubbo, Narromine, Trangie and Nyngan.
You're known for your involvement in the Warren United Hospital Auxiliary. Can you tell us what you find most rewarding about being a part of this organisation?
I worked at the hospital for probably 10 years before I went to the Auxiliary, and then I joined them, because they were a bit short.
A lady by the name of Betty Smith asked me if I would be the President, and so I was for 33 years.
I did a lot of work for the Auxiliary, and the hospital. Every penny we made went to the hospital.
When I first started at the Auxiliary, some people passed away and I realised there was nowhere to have a cup of tea after the funeral, so I started organising the wakes here.
We charged $7 a head, and all that money went to the hospital to buy beds and equipment we needed. I don't do it now because I'm too old, but the other younger girls took over, and they still do it now.
We've made a lot of money for the hospital.
You also do some notable work at the St Vincent De Paul Society. What do you enjoy most about volunteering?
After I left the hospital, I went and had a heart operation. When I came back, I ran Vinnie's – I used to be the boss there, but I just go in and do bits and pieces now.
I enjoy seeing the people that come in and helping them. There are so many people, especially now, that come in and shop there. We make cups of tea, sit down and have a talk to them.
Strangers will come in and feel embarrassed about shopping at Vinnie's, but we say "No, don't be embarrassed. Just tell us what you need, and we'll get it for you".
A lot of people don't have much money to buy things, especially since the COVID-19 pandemic.
As someone who is so dedicated to your local community, why do you think that it's important to be involved in local organisations and causes?
I think everybody should do something for other people, just to help them.
If everyone put themselves out there for someone else from time to time, it would make the world a much better place.
What advice would you give to other women living in rural communities?
It's good for women to get out, mix with people and do different things. There are a lot of lonely people, and I think it's good to involve them.
To nominate a Warren Shire woman to be featured in this series, email media@warren.nsw.gov.au