Women of Warren Shire - Mary-Anne Brennan
22 June 2022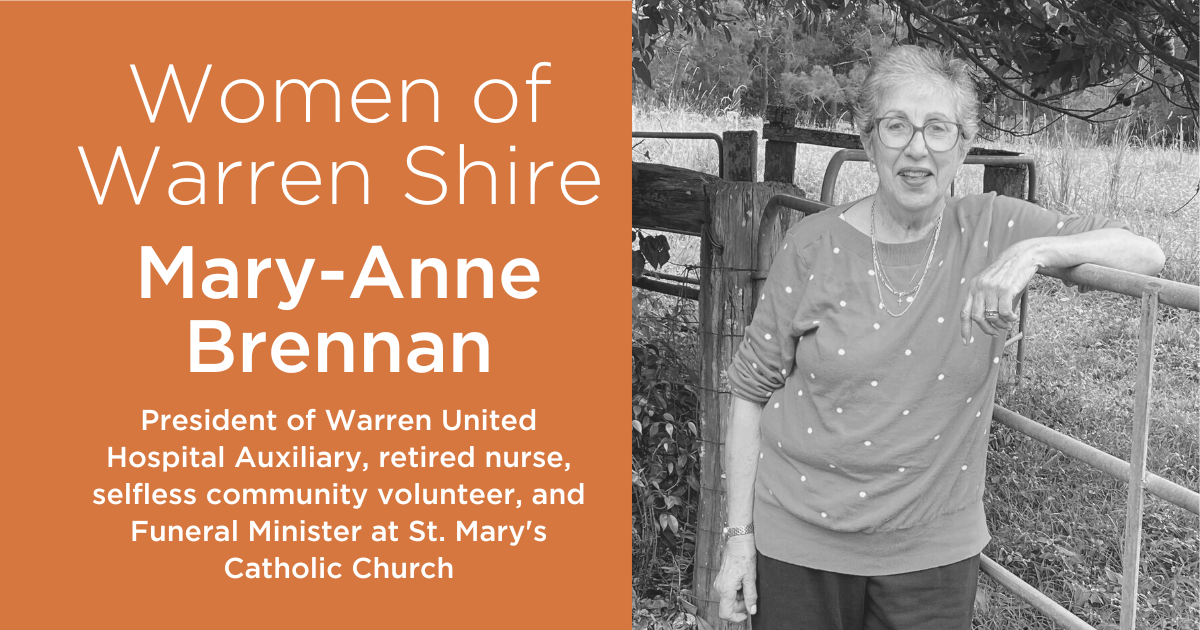 Born and raised in Warren Shire, Mary-Anne Brennan has made a name for herself as a "go-to" person within the community, citing an open-door policy for anyone who needs it. Mary-Anne has been an active community member for many years, from her service as a nurse to her involvement in the Warren United Hospital Auxiliary and St. Mary's Catholic Church.
Her nursing career took her around the world and back again, and now we recognise Mary-Anne's contributions to the place she calls home, as this month's Woman of Warren Shire.
Quickfire questions…
A usual morning looks like…
I wake up and thank God for a new day, then I put the radio on to listen to the news. It's an early start if my grandchildren have had a sleepover! Otherwise, I eat breakfast at leisure and catch up with phone calls and mail. I have Mass on Tuesdays and Sunday mornings and sometimes enjoy morning tea with family or friends.
I'm most proud of…
My upbringing in a loving and caring family in Warren, my beautiful children – three sons and a daughter – and six beautiful grandchildren. I'm also proud of what I have achieved in my life and my second-generation Lebanese heritage.
On the weekend you can find me…
On the weekend you can find me watching my grandchildren play local sport, having lunch with family after Mass on Sundays, or watching the races on Saturday afternoons. I also enjoy playing Bridge, spending time in my garden (which is my special place of peace and tranquillity), and tending to my chooks.
Did you grow up in Warren Shire? If so, what is your favourite childhood memory?
My grandparents came from Lebanon in 1896 and settled in Warren Shire due to the wonderful, welcoming community of our township in the early 1900s. From humble beginnings, my grandfather opened a general store on Dubbo Street, where my father and brother carried on the business until the 1990s.
I was born in Warren and grew up in the Warren Shire, attending St. Mary's Parish School until Year Six.
My favourite memories are of family gatherings with our cousins and extended family – my mother was always a gracious hostess. I have fond memories of going to Macquarie Park with my three brothers and two sisters on Saturday afternoons to play, and going to our local outdoor picture theatre.
Three words to describe Warren Shire?
My home, my community, my life.
Some more about you…
I attended boarding school in Sydney, before completing my General Nursing training at The Little Company of Mary Hospital in Lewisham. During those four years, I made lifelong friends, had a lot of fun, and loved life in the big smoke.
Following my General Nursing, I spent the next year in Brisbane doing my Obstetric Certificate. What a great year that was!
Travel came next, living and working my way around Europe and the UK for two years with my nursing mates.
In 1972, I returned to my home town of Warren and met my husband, Chris. We married in 1976 in St. Mary's Catholic Church, and celebrated our reception at the newly built and opened GBS Falkiner Lounge at the Warren Showground/Racecourse Complex.
Our daughter Gabriel now lives overseas in New York, and I have been able to travel throughout Australia, Europe and America with my favourite travelling companions – my sister and daughter. We have had some amazing experiences and fabulous fun times shared.
What do you love most about Warren Shire?
Having the opportunity to live on the land for 40 years, where Chris and I raised our four children.
The beauty in our shire; the river, the scenic walks and Tiger Bay Wetlands, as well as the park and the wonderful modern facilities and amenities available to all who live in our caring community.
What did you like best about raising a family in Warren Shire?
Our children had the freedom of living in the country out Marthaguy way until they left to go to high school in Sydney. We had a wonderful life being involved in the community there.
They attended St. Mary's Parish School in Warren and were heavily involved in local sports as kids. My husband Chris was also involved with the Warren Rugby Union Club for over 30 years.
We have loved watching our kids grow into beautiful adults here.
Can you tell us a bit about your journey, including some of your most significant achievements?
I guess my real journey began when I returned to Warren after years away and got married.
Our whole life revolves around family and community in Warren Shire.
Can you tell us about your involvement in St. Mary's Catholic Church? What role do you play within the church?
My involvement with the church began many years ago when I was invited by our parish priest to become a Minister of Communion – which was a great privilege.
I represented Marthaguy on the parish council for 15 years before an older priest arrived requesting parishioners to help with funerals. I'm still a Funeral Minister in our church today, helping grieving families organise services and church booklets, and being present at the service to assist the priest and support the families.
I feel a lot of compassion for those who have lost loved ones as I have also been in their shoes – it's such a time of loss, shock and confusion for families.
You worked as a nurse, both in the hospital and community nursing, as well as being involved in the Warren United Hospital Auxiliary, can you tell us more about this and what you find most rewarding about caring for others?
After our youngest son went to boarding school in 1997, I returned to work at Warren Hospital in 2002. I took on the shared job of Community Nurse for the next 15 years, which I loved so much. I felt blessed to be able to help and support people – young and old – in our community.
But I must acknowledge the support of my amazing co-workers, who made my job as a Registered Nurse run smoothly.
Continuing my journey, I was asked to be the Treasurer of the Warren United Hospital Auxiliary, of which I am now the President. We have a generous, caring group of great cooks and loyal women who give their time to cater for local funeral wakes.
All proceeds raised by the Auxiliary are used to support our local hospital and Calara House.
I also volunteer for Meals on Wheels once a month, which connects me with some of the elderly locals.
I feel privileged to work with these groups of wonderful volunteers. Sharing these experiences creates such a sense of belonging.
You're known as a "go-to" person in the community, always ready to step in and help others, what do you attribute this attitude to?
My door is always open to anyone who cares to call and needs my advice. Being a Justice of the Peace also brings many locals to my door.
This attitude comes from my upbringing, my parents, and my Lebanese heritage. My father was a very generous "go-to" man back in his day, always ready to give a helping hand to anyone – day or night.
What advice would you give to other women living in rural communities?
Share your talents, join organisations, and become involved in your community.
PEACE, LOVE AND STRENGTH!
To nominate a Warren Shire woman to be featured in this series, email media@warren.nsw.gov.au