Women of Warren Shire - Patricia Plunkett
29 March 2022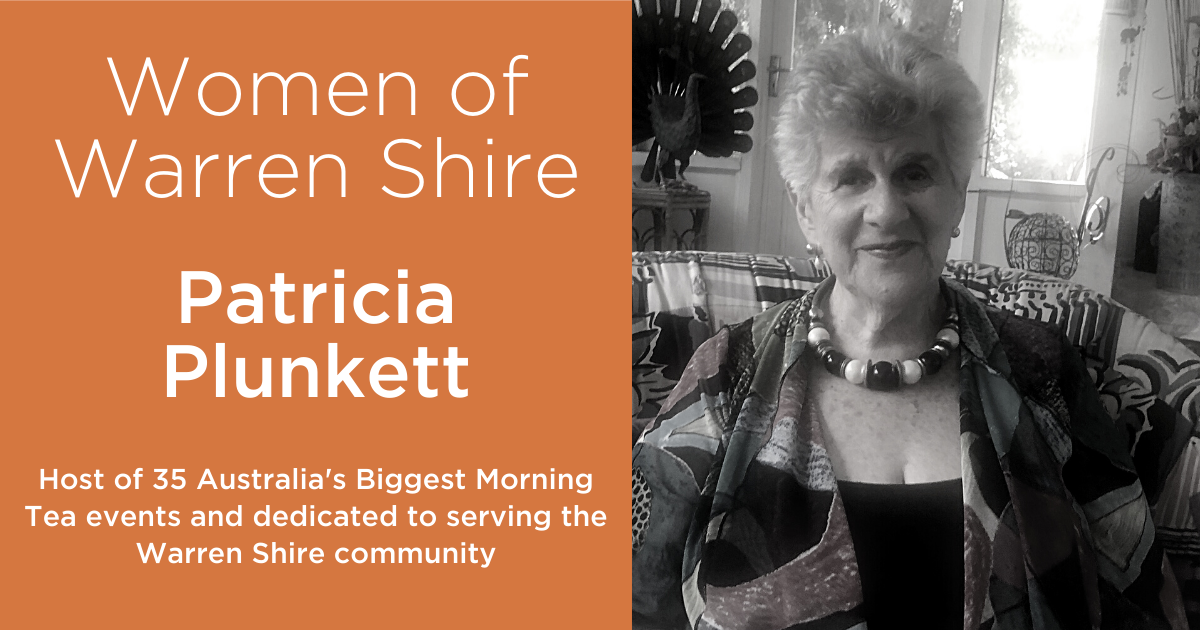 Born in Warren Shire, Patricia Plunkett has made a huge contribution to the community, including dedicating her time to host over 35 Australia's Biggest Morning Tea events.
We spoke to Patricia to hear about her involvement in the Warren Shire community over the years.
A usual morning looks like?
I wake and thank God for another day and for the gift of my family, my husband, beautiful children and all the other blessing in my life. Every day is a gift.
I'm most proud about?
The person I am today and what I have achieved in my long life.
Good health, family, business, friends and community.
Fondest memory of growing up in Warren Shire?
Attending Warren St Mary's Catholic School. I was taught by the good Samaritan's Sisters and made many lifelong friends.
There is such a rich sense of belonging being part of the Warren Shire community.
Favourite place in Warren Shire?
The Window on the Wetlands (WOW) Centre – it's a beautiful place to meet and greet my friends. The area has such a wonderful ambience and it's a place of peace and tranquillity.
A little fact about the WOW Centre, it was previously the Catholic Church, and this is where I was Baptised and Confirmed.
On the weekend you can find me?
Every Saturday at 10am, I meet at JC's Café with 'the coffee ladies' and have a lovely chinwag full of sharing and caring.
Sunday, I go to Mass and then home to spend time with our family. Our daughter Treacy comes to lunch every Sunday and I also love to spend time in the garden.
3 words that sum up living in Warren Shire?
Warren – my home.
Some more about you…
Can you tell us a bit about your journey, some of the highlights of your life?
After St Mary's Catholic School, I then went to boarding school in Sydney. I went on to do nursing at St Vincent's, graduating in 1963.
I married Ron in 1964 and we lived on the other side of Nevertire at Eulo Glen for five years. Our children were all born while we lived there.
We came to live in Warren in 1969, buying the Men's Wear store from Neville Stubbs. We traded as Ron Plunkett's Men's Wear when I had the Little Shoppe next door as a lady's fashion store. We then built and opened The Store in Warren in 1983, trading and serving the community for many years, before I retired in 2009.
One of my highlights was when Ron and I represented our Diocese and gave Pope John Paul II a gift on his visit to Australia. Held at Randwick Racecourse in Sydney, the mass was attended by 250,000 people.
Ron and I spent six weeks in Thailand with Movement for a Better World. It was a World Study Conference on the implementation of Vatican II.
One of my special highlights is having our children and watching them grow into beautiful adults and having beautiful children of their own – our amazing grandkids – all living in our wonderful Warren community for many years.
A recent highlight was meeting seven boarding school friends at Café 2823 in Trangie. We had all just turned 80, and it had been 65 years since we had left school. It was such a wonderful time catching up together.
These days I keep my week busy:
Tuesday - Mass and yoga
Thursday - Spinners and Yarners
Fridays - social bridge.
Each month I also have a Carers Gateway meeting where we meet in the WOW Centre, a CWA meeting which I am very involved, and the Warren Bridge Club, where 20-30 people from other towns come to Warren Golf Club to play cards.
As the host of many Australia's Biggest Morning Tea charity events at your home, what do you love about bringing people together for such a worthy cause?
We have hosted events for Australia's Biggest Morning Tea for at least 35 years, to fundraise for the Cancer Council, which is such a worthwhile cause.
I loved hosting these, I loved to see the smile on people's faces and hear them saying, "thank you Patti for having this, we love being here".
As someone who is known to be so community-minded, what do you love about Warren Shire?
It is the beautiful community living – the people, the river, the gum trees and all of the wonderful facilities and amenities we have at our fingertips.
You are wonderful at bringing people together, can you tell us more about Yarning at the WOW Centre?
The Spinners and Yarners meet every Thursday 10am – 2pm at the WOW Centre. We have a wonderful group of ladies meeting to chat and share their gifts and talents in arts and craft. There are usually up to 14 ladies and it's such fun.
We also have an annual get together at the Trangie Hotel and women join us from far and wide. Oh what joy, talents and laughter we share.
What tips would you share to anyone looking to contribute to the Warren Shire community?
To be open, honest, share what you have and always be available.
I'm grateful to be able to live the rest of my life in a community that I love and have served all my life.
Your words of wisdom:
Like the words of Forrest Gump: "Life is like a box of chocolates, it doesn't matter which one you pick, they are all good".
To nominate a Warren Shire woman to be featured in this series, email media@warren.nsw.gov.au