Council Meeting Highlights - November/December 2022
05 December 2022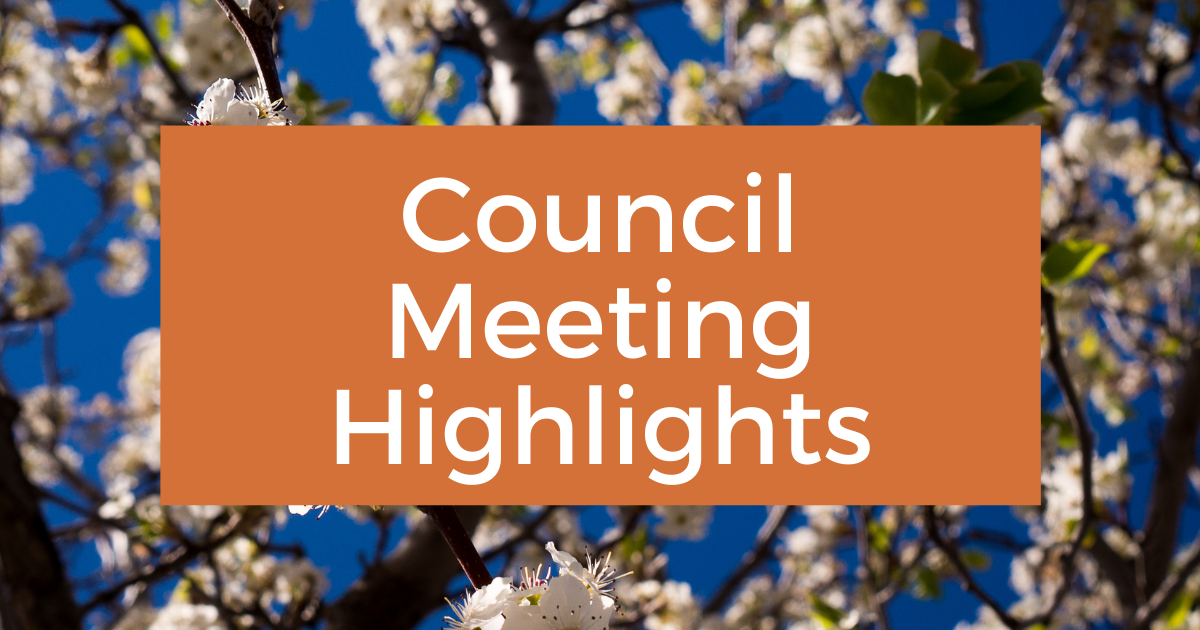 Warren Shire Highlights
November/December 2022
Warren Shire's Ordinary Council Meeting was held on 1 December 2022. Highlights from this meeting included:
COMMITTEE NEWS
Council's MANEX Committee received an update on the 2021/22 storm and flooding event claims and associated repair works happening around the Shire. As a result, Council is planning for the appointment of permanent and temporary day labour resources to address the magnitude of flood restoration works required across the Shire.
Friday 23 December 2022 has been approved as a Union Picnic Day, with a Family Fun Day booked at the Warren Golf Club. Council will operate on a skeleton staff on this day, before closing its administrative and depot services until Tuesday 3 January 2023 for the Christmas break.
The Economic Development & Promotions Committee will progress the Warren Shire Economic Development Strategy and Action Plan, with key stakeholders engaged to determine support for responsibilities in the draft plan. A meeting will also be held to progress the establishment of the Destination Macquarie Marshes Stakeholder Group.

The Public Arts Committee is considering a further public art mural to utilise remaining funds from the Murray Darling Basin Economic Development Round 3 Grants Program. The Committee will also determine the selection of historic and Macquarie River themed photographs to use on the collage wraps of the Warren CBD and Lions Park toilet amenities, with a final callout for Macquarie River images occurring shortly.

Due to Warren Shire's significantly damaged road network caused by ongoing wet weather and flooding, the Roads Committee has recommended a Self-Help Scheme, allowing farmers to undertake urgent repairs without payment on the road network for the good of their business.

These works must be carried out in accordance with Council requirements regarding works standards, Public Liability Insurance, traffic control and proper notification. The scheme is to be managed by Council's Engineering Services Department, which will develop appropriate guidelines for its operation.
The Sporting Facilities Committee will investigate lighting options for the discus and shotput areas at Carter Oval, with a landscaping plan to be finalised for the Carter Oval Precinct in early 2023 and all relevant user groups to be relocated from Victoria Park once Precinct project works are complete. The Committee continues to source funding for additions including a permanent electronic scoreboard for Victoria Park and portable electronic scoreboards for Victoria Park and Carter Oval, as well as shade sails for the western side of the Warren War Memorial Swimming Pool.
FLOOD DISASTER CONCERT DONATION
Warren Shire Council has donated the hire and preparation cost of Victoria Park and the Warren Sporting and Cultural Centre to St Mary's Parish School for a Flood Disaster Concert using Council's donation vote and waived the requirement of a security deposit.
The Flood Disaster Concert was held on Sunday 4 December to aid families in Eugowra and Forbes who have been affected by recent flooding events.
WARREN SHIRE VACATION CARE SERVICE
Due to the increased compliance requirements of the legislation around early childcare and the inability to source suitably qualified and experienced staff, Warren Shire Council will cease to offer a vacation care service.
Council began offering vacation services at a time when the sector was much less heavily regulated and can no longer sustain the increasing compliance costs or resource with adequately qualified temporary staff. School holiday activity services are offered in Warren Shire via the Warren Youth Foundation and the Warren Library.
CODE OF MEETING PRACTICE
Warren Shire Council has adopted a Model Code of Meeting Practice, following a 28-day period of public exhibition. Changes include an Acknowledgement of Country to be read by the Chair prior to each Council Meeting, the ability to conduct meetings by audio-visual link in circumstances including health crises or natural disasters. Council will also arrange a Welcome to Country by an invited Aboriginal Elder at the first Council Meeting of each new Council term.
2021/22 WARREN SHIRE COUNCIL ANNUAL REPORT AND DELIVERY PROGRAM PROGRESS UPDATE
Warren Shire Council has been presented with its 2021/2022 Annual Report, which provides a comprehensive statement on Council's performance over the past 12-month period and identifies Council's achievements in meeting the direction set under the Community Strategic Plan and 4-year Delivery Program.
The report demonstrates the breath of Council's operations and services provided to the community throughout the year. It also describes how the organisation is governed and managed, including reporting on Council's financial performance.

Council also received a 6-monthly update on its 4-year Delivery Program. Both the Delivery Program and 2021/22 Annual Report are available to view on Council's website.
COUNTRY MAYORS' ASSOCIATION
The Country Mayors' Association (CMA) has compiled a list of key "Asks" for the Association to put to political leaders in the lead-up to the State Election in March 2023. The CMA will seek responses from both the government and opposition in the areas of:
Skills and Education
Health Services
Roads and Transport
Water Security
Housing
Crime, Law and Order
Telecommunications Blackspot Coverage
Disaster Preparedness and Funding
These advocacy efforts provide a united voice on behalf of rural and regional communities for consideration by the incoming state government.
GRANTS
Warren Shire Council has been successful in obtaining a grant of $300,000 from Resilience NSW under the Disaster Risk Reduction Fund. This funding is earmarked for the construction of a ventilated causeway at the Dragon Cowal on Merrigal Road. The grant is a co-contribution for the approved Package 2 funding of $349,685 from the Disaster Recovery Funding Arrangements (DRFA) from Transport for NSW for public asset restoration.
Council is continuing to await notification on numerous other grant funding to progress infrastructure upgrades and repairs across the Shire.
CAPITAL WORKS IN PROGRESS
Major works are progressing on the Carter Oval Sporting Precinct, Warren Showground / Racecourse Upgrade and Warren Airport Upgrade, with all works scheduled for completion in late 2022/early 2023.
Other current infrastructure project updates include:
Following close to a $50,000 artificial turf upgrade, Warren Tennis Club has sourced lighting to complete this project. Lighting installation is anticipated to occur in December 2022.
Final commissioning of the $6.15M Sewage Treatment Plant upgrade is expected to occur in December 2022.
Shade sails are anticipated to be erected at the Warren Splash Park in December 2022.
ON THE ROADS
Ongoing flooding has delayed upcoming road works, as well as required work crews to undertake a number of additional tasks to maintain road safety and accessibility. Recent works include traffic control, flood work, escort vehicle, patching and signs.
In addition, upcoming maintenance and rehabilitation works include:
Heatherbrae Road, Cremorne Road, Dandaloo Road, Old Warren Road, Sullivans Road, Colane Road, Marra Road, Bundemar Road, Boss Lane, Wonbobbie Lane, Cullemburrawang Road and Gillendoon Road.
Read the full Road Report on Council's website.
Please check Council's website and Facebook page for a full list of road closures and the latest conditions updated daily.
UPCOMING EVENTS
16 December 2022: Twilight Race Meeting.
25 January 2023: Council Meeting.
26 January 2023: Warren Shire Australia Day Awards Ceremony.
See a full list of upcoming events in Warren Shire on Council's website.