Council Meeting Highlights - February 2023
27 February 2023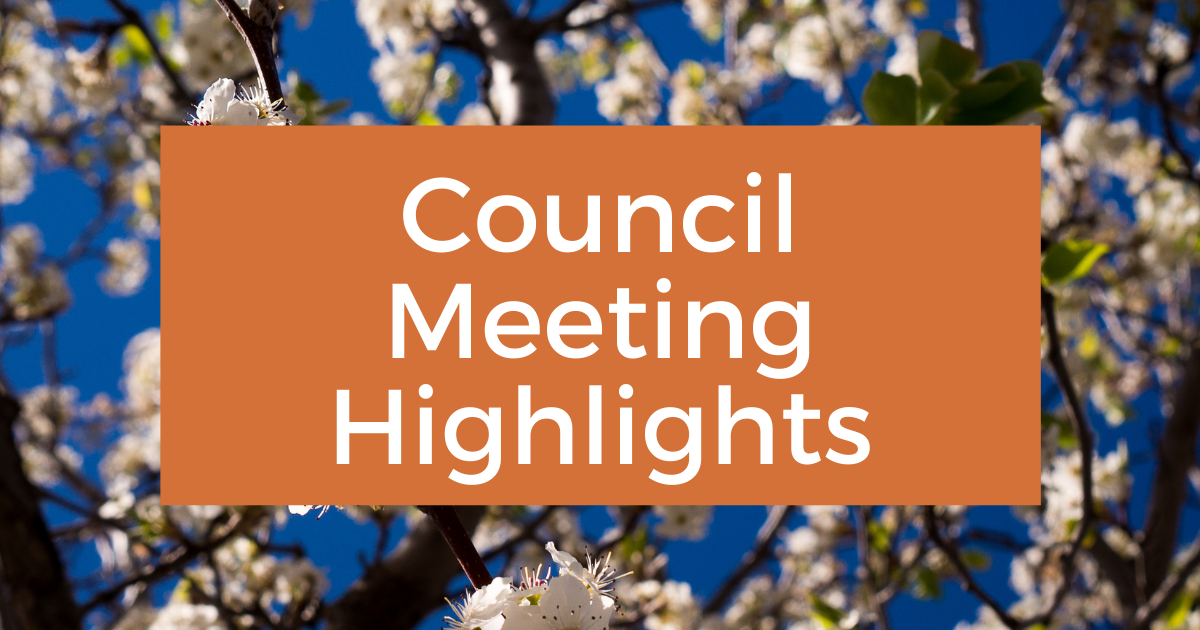 Warren Shire Highlights
February 2023
Warren Shire's Ordinary Council Meeting was held on 23 February 2023. Highlights from this meeting included:
COMMITTEE NEWS
Following Council's allocation of an additional $460,000, the $6.7M Carter Oval Youth Sports Precinct will soon be nearing completion, with the Sporting Facilities Committee advising that carpark excavations and topsoil removal are currently progressing.
The foundation design for the amenities building is currently being reviewed, with construction on the site commencing this month. Soccer field works will also commence following the current cricket pitch works, with turf installation expected as early as next month.
Additionally, after receiving $856,903 in funding under the NSW Government's Stronger Communities Fund Round 5 Grant, community consultation for the replacement of the Warren War Memorial Swimming Pool amenities, kiosk, changeroom and clubroom will commence in March/April 2023.
The Traffic Committee has reported that subject to the concurrence of NSW Police, a new children's school crossing will be installed on Hale Street, west of the Chester Street intersection. Funding for this crossing will be sought from Transport for New South Wales.
The Economic Development & Promotions Committee has scheduled a workshop to finalise the next draft of the Warren Shire Economic Development Strategy and Action Plan.
The Committee has recommended reviewing the Volunteer Policy/Procedure to make volunteering with Council, particularly at the Visitor Information Centre, a more straightforward process.
They have also congratulated all participants and staff involved in the Warren Street Christmas Party on winning Community Event of the Year in the 2023 Warren Shire Australia Day Awards.
The Warren Local Emergency Management Committee has reviewed and agreed to changes to the Hazards and Risk Summary in the Local Emergency Management Plan.
With several new trucks coming to Warren Shire and the team working with Council on the new shed, the Rural Fire Service (RFS) is now fully staffed for the first time in five years. Fire permits have been amended, with the Fire Behaviour Index yet to be updated.
The Committee also reported that the 'Fires Near Me' app has been renamed and is now referred to as 'Hazards Near Me'.
With the Western Plains Equestrian Arena now complete, the Showground/Racecourse Committee has continued work on the Showground/Racecourse Improvement Program.
A local firm has been engaged to demolish the two existing toilet blocks, while a builder is being sourced for works on the toilet shed building. The new Pony Club amenities are expected to be completed in March 2023.
Design is also now underway for the mural set to be painted on the new amenities, with a draft to be prepared featuring a campdraft scene, two pickup riders, a bucking bull and rider, a bucking horse and rider, and a herd of horses. The 2.4m high wrap-around mural will be painted on the walls facing McCalman Pavilion and the bar area.
Once the draft has been finalised, it will be presented to the Warren Public Arts Committee, the Showground/Racecourse Committee and the Horse Committee for deliberation. The Horse Committee will then consider contributing a $10,000 donation to the project.
DOCUMENTS ON PUBLIC EXHIBITION
A number of documents are now on public exhibition, including:
Councillor Expense and Facilities Policy.
Appointment and Oversight of General Managers Policy.
Shire residents are invited to view and submit feedback on these policies on Council's website.
Feedback can be submitted via:
PO Box 6, Warren NSW 2824
Council's Administration Centre - 115 Dubbo Street, Warren.
Additionally, a Councillor workshop will also be held on Wednesday 12 April 2023 to review the final draft of the Operational Plan and Estimates. The document will then be recommended for public exhibition at the April 2023 Council Meeting.
SCULPTURE ART SHOWCASES COMMUNITY HEART
Several new sculptures have officially been installed across Warren Shire, funded by the Australian Government's Drought Communities Extension Program and earmarked under the Pathways Structures program.
A trail of cockatoo sculptures feature along the Matthew Collins Memorial Walk through Oxley Park and Victoria Park, while a number of sports-themed sculptures have been installed at various locations around Victoria Oval.
Read more about the latest sculptures on Council's website.
GRANTS
Warren Shire Council has been successful in obtaining $2,797,380 in funding for the rehabilitation of segments 4-10 of Nevertire-Bogan Road under the NSW Government's Fixing Local Roads Program and $1,126,800 for the replacement of Newe Park Bridge and Tenandra Bridge under the NSW Government's Fixing Country Roads program.
Council has also been granted $2,415,175 under the NSW Government's Regional and Local Road Repair Program to assist in undertaking priority maintenance works and immediate repair of potholes on the Shire's local and regional roads.
A $500,000 funding application for the construction of female amenities at Victoria Park has been successful under the NSW Government's Office of Sport - Female Friendly Community Sport Facilities and Lighting Upgrades Grant Program.
Council is continuing to await notification on numerous other grant funding applications, including for the installation of an additional Adventure Play Space at Carter Oval Youth Sports Precinct, delivery of the Get Fit Get Strong Healthy Minds program and the purchase of three defibrillators to be kept in different locations across the Shire.
CAPITAL WORKS IN PROGRESS
Major works are progressing on the Carter Oval Sporting Precinct, Warren Showground / Racecourse Upgrade and Warren Airport Upgrade, with all works scheduled for completion in 2023.
Other current infrastructure project updates include:
Pitch and outfield works are now underway on the cricket oval at the landmark Carter Oval Youth Sports Precinct.
The state-of-the-art Western Plains Equestrian Arena is officially complete. Funded by the NSW Government's Regional Sports Infrastructure Fund and Phase 3 of the Australian Government's Local Roads and Community Infrastructure Program, the 80m x 42m arena is a much-anticipated development at the Showground/Racecourse Complex.
Works on the ring main at the Warren Cemetery began this month and are now almost complete. Further drainage improvements are now to be carried out on the western side before construction of the new plot locations can begin.
Planning works on the levee reconstruction project have commenced, following a kick-off meeting and site inspection.
ON THE ROADS
With drier conditions across the Shire, crews have been able to make progress on damage repairs and standard maintenance works. Recent works include grading, highway patching, construction, flood repair, standard patching, clean-up of the former temporary waste facility and slashing.
In addition, upcoming maintenance and rehabilitation works include:
Armatree Road, Christies Lane, Old Warren Road, Collie-Trangie Road, Pigeonbah Road, Merrigal Road, Carinda Road and Gibson Way.
Read the full Road Report on Council's website.
UPCOMING EVENTS
4 March: Warren Heritage Museum and Gallery Official Opening.
11 March – 12 March 2023: The Golden Ibis Trophy and Denis Hunt Memorial Cup.
23 March 2023: Council Meeting.
26 March 2023: Warren Community Triathlon.
15 April 2023: Golden Fleece.
See a full list of upcoming events in Warren Shire on Council's website.