Council Meeting Highlights - May 2023
30 May 2023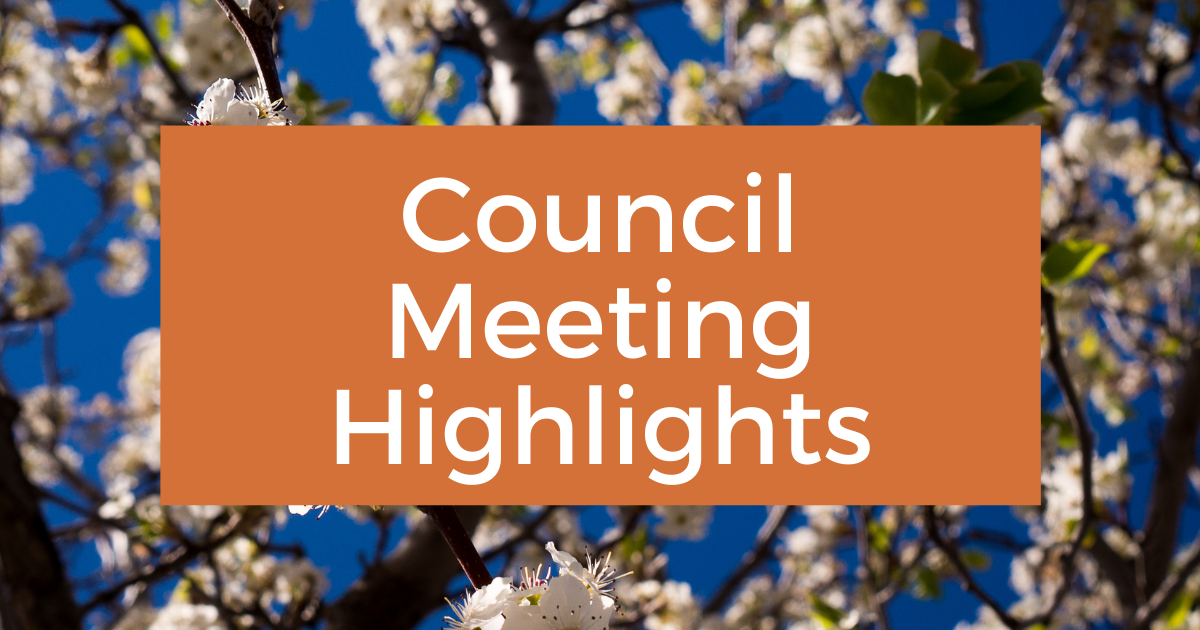 Warren Shire Highlights: May 2023

Warren Shire's Ordinary Council Meeting was held on 25 May 2023. Highlights from this meeting included:
COUNCIL RESISTS DAMAGING INCREASE IN EMERGENCY SERVICES LEVY COSTS
Warren Shire Mayor, Milton Quigley, has raised a Mayoral Minute to help fight a damaging 73% increase in the NSW Emergency Services Levy, imposed on all Councils across the state without warning for the 23/24 financial year.
Coupled with an 18% increase in the NSW Fire and Rescue budget and the fact Council has already determined its 23/24 annual budget under the regulatory rate peg, these increases will result in the forced reduction of important local services.
Council will write to the Treasurer, the Minister for Emergency Services, the Minister for Local Government and its local MPs to oppose the 73% levy increase and call on the state government to take immediate action to address this critical issue.
Council will further write to the Independent Pricing and Regulatory Tribunal (IPART) regarding this financial stress, as well as Local Government (LG) NSW, to seek the association's ongoing advocacy in relation to this matter.
AMENDMENT TO COMMUNITY INFRASTRUCTURE PROJECT FUNDING
An amendment has been made to the total funding received under the Australian Government's Local Roads and Community Infrastructure Program, with $1.033M now allocated for local projects.
While Council has adjusted the program to reflect the new figure, 25 projects will still share in the funding. These include Warren and Nevertire cemetery enhancements, Tiger Bay signage refurbishment, softfall installation at Ravenswood and Macquarie Parks, Victoria Park electronic scoreboard contribution and solar panel installation at various locations.
For a full list of projects, visit Council's website.
WARREN AIRPORT UPGRADES
Warren Shire Council has resolved to place a hold on the acceptance of tenders for the new Warren Airport Terminal Building Project, which also included proposed stormwater drainage improvement works on Runway 03/21, and miscellaneous terminal works.
This will allow Council staff and the Warren Airport Committee to reconsider options for the size, composition and budget of the terminal building and associated works.
It will also ensure the potential commercial operator requirements can be appropriately taken into account, as well as the needs of the wider community.
A further report will be provided to Council in the near future.
LGNSW WATER CONFERENCE
Warren Shire Council's Town Services Manager will be in attendance at the 2023 Local Government NSW Water Conference in Parkes next month, with an expression of interest also being arranged for an interested Councillor to attend.
The annual conference presents current information about water policy and regulation, utility management, security, and quality service delivery.
The "Together Towards Tomorrow" themed event also facilitates discussions around water policy initiatives and trends, the latest technical innovations, and best practices in water governance and management.
As one of Council's key priorities, learnings from the event will help to ensure the continued supply of quality water services across the Shire.
CAPITAL WORKS IN PROGRESS
Major works are progressing on the Carter Oval Youth Sporting Precinct, Warren Showground / Racecourse Upgrade and Warren Airport Upgrade, with all works scheduled for completion in 2023.
Current infrastructure project updates include:
Carter Oval cricket pitch top dressing and turfing are now complete, with quotations now being sought for cricket practice nets.
New lights have been installed and tested at the Warren Tennis Court, marking the official completion of the Warren Tennis Court Upgrade project.
With demolition of the existing ladies' toilets at the Showground now complete, construction of the new facilities has commenced. A portable ladies' toilet building will be put in place for the Warren Show.
ON THE ROADS
Crews are continuing to make progress on damage repairs and standard maintenance works across the Shire. Recent works include grading, shoulder grading, flood rehabilitation works, patching and slashing.
In addition, upcoming maintenance and rehabilitation works include:
Construction of Burrima Boardwalk Access Road, and grading of Pleasant View Lane, Pine Clump Soldiers Road, Marra Road, Booka Road and Billybingbone Road.
Read the full Road Report on Council's website.
WHAT'S ON AT WARREN SHIRE LIBRARY?
Warren Shire Library has recently enhanced its adult area to create a more spacious entry and seating space, with new shelving and furniture funded by the State Library of NSW Priority Grant.
The library has also hosted the first "Paint the Town REaD" early literacy event since 2020, with the affair held at the Warren Sporting and Cultural Centre on Wednesday 24 May 2023. With a great number of children and community members in attendance, the event featured a highly anticipated performance by children's musical group, "The Beanies".
The Outreach Program has continued to run each Monday, promoting the value of reading and literacy for students at St Mary's Parish School, Warren Central School, Warren Pre School and Little Possums.
Council's "Doorways to an Open-Air Library" project is progressing, with tenders opening soon for the delivery of the new entrance and landscaping.
TENDERS
A number of tenders were accepted in the report of the Divisional Manager Engineering Services, including:
Provision of bitumen spray seal awarded to Country Wide Asphalt, Fulton Hogan and NSW Spray Seal.
Construction of ventilated causeway at the Dragon Cowal, Merrigal Road awarded to Conseth Solutions Pty Limited.
Supply and delivery of bulk fuel awarded to Castlyn Pty Ltd t/a Inland Petroleum.
Supply and delivery of bulk water treatment chemicals awarded to multiple suppliers, as indicated below:
Chlorine gas – Ixom Operations Pty Ltd.
Aluminium sulphate and dense soda ash – Redox Ltd.
Hydrochloric acid – BTX Group Pty Ltd.
Cyanuric acid – Colonial Chemical Pty Ltd.
Asphalt works on Dubbo Street awarded to Patches Asphalt.
COMMITTEE AND DELEGATE NEWS
The Economic Development Promotions Committee has recommended the draft Economic Development Strategy and Action Plan be placed on public exhibition for a minimum of 28 days to obtain comment and feedback before being reconsidered by the Committee and Council.
The Committee has also reported that the Macquarie Marshes Taskforce will invite further community participation, following the finalisation of several key documents and strategies later this year.
The Airport Operations Committee has reported on progress to the Terminal Building, with a full report on its construction detailed above. A lease for the building being finalised with Bankstown Flying School for a term of 5 years plus 5 years, with a grant is being considered to jointly fund further works to increase access for visitation to the Macquarie Marshes.

Council is currently accepting nominations from community members wishing to join the Public Arts Committee. For anyone wanting to be involved in undertaking work relating to murals, sculptures, and future strategic planning for public art in Warren Shire, please submit your nomination to Council by 4pm, Thursday 13 July 2023.
The Showground/Racecourse Committee has provided a progress update on several projects including accessibility works for the GBS Faulkiner Lounge and demolition of the Ladies' Toilets, to be replaced with a joint amenities' facility later this year.
Unfortunately, the Committee also had to report on the increased security measures being taken at the facility due to the damage caused by vandals at the site.
In better news, the new Equestrian Arena has been receiving positive feedback from all user groups, with a request to Council to provide an additional budget for maintenance resources.
A draft Road Safety Strategic Plan will be presented to the next meeting of the Roads Committee, following a presentation by the Divisional Manager Engineering Services, in which he obtained feedback for the Plan's development.
The Sporting Facilities Committee reports investigations are underway for the installation of a permanent electronic scoreboard at Carter Oval Youth Precinct's Main Oval and portable scoreboards at Victoria Park, following an allocation of funds at last month's Council Meeting. Other investigations have been completed for a suitable location for additional changerooms and amenities at Victoria Park.

The Traffic Committee has recommended approval for the installation of proposed Stop, Give Way and Priority Road left and right signage at the Kianga Marebone Road and Wingfield Access intersection to address safety concerns at this location.
The Committee also heard from Local Member Representative, David Duncan, regarding improvements to directional and tourism signage across Warren Shire and the broader region, which is hoped to take place prior to the official opening of the Burrima Boardwalk in October 2023.
The Local Emergency Management Committee endorsed an updated draft Local Emergency Management Plan, and considered a report on the debrief of the emergency response during recent flooding events.
Outback Arts has officially elected its Board for 2023, consisting of representatives from Bourke, Bogan, Brewarrina, Cobar, Coonamble, Walgett and Warren Shire Councils.
Two Community Representatives were elected, alongside the Chairperson, Vice-Chairperson, Treasurer and Auditor. The 2023 Public Fund Sub Committee, Signatories, 2024 CASP Board Representatives, and Constitutional Sub Committee were also appointed.
UPCOMING EVENTS
Saturday 3 June 2023: Warren Show
Friday 9 June 2023: Youth Festival
Thursday 22 June 2023: Council Meeting
Saturday 22 July 2023: Marra Field Day
Saturday 29 – Sunday 30 July 2023: Warren Polocrosse Carnival
See a full list of upcoming events in Warren Shire on Council's website.